The United States celebrates Thanksgiving annually on the fourth Thursday in November (second Monday in October for Canada). The holiday dates back to 1621, when the Pilgrims and Wampanoag Tribe hosted the first Harvest Festival in Plymoth, Massachusets. The celebration feast included bird, deer, fish, lobster, and dozens of local vegetables. Today, most people eat turkey, stuffing, mashed potatoes, and gravy. If your client has decided to take a holiday vacation, then here are 6 of the most exciting Thanksgiving festivities and celebrations across the United States that'll elevate the trip!
Overview of the best destinations to send your client for Thanksgiving in the USA:
New York, New York
Orlando, Florida
Plymouth, Massachusetts
Frankfurt, Michigan
Santa Fe, New Mexico
Leavenworth, Washington
NEW YORK, NEW YORK
Macy's Thanksgiving Day Parade
Macy's, the iconic department store, has hosted New York's Thanksgiving Day Parade every year since 1924. What originally began as zoo animals marching down the street quickly, and understandably, changed to the oversized balloons Americans know and love. In previous years, Tom the Turkey, Garfield, Sonic the Hedgehog, Hello Kitty, Pikachu, and more have been spotted in the sky! The Thanksgiving Day Parade is a mere 3 hours, and families will enjoy watching the various balloons, marching bands, and Broadway performers file through the streets of Manhattan.
Pro-Tip: Use the WINGS Booking Engine to book a hotel on the main stretch so your clients can stay in their room to watch the parade!
ORLANDO, FLORIDA
Disney World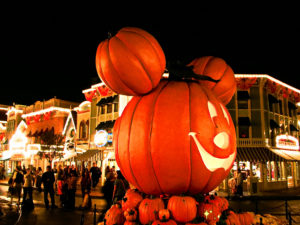 It's important to note that Disney World only celebrates fall and Halloween—so there isn't any Thanksgiving entertainment. However, your clients will love exploring the different attractions and theme parks around the grounds. Even if you book accommodations off Disney's property, it'll be a guaranteed magical experience! A great activity is the American Adventure Show at Epcot or the Hall of US Presidents in the Magic Kingdom. For a banquet of turkey, mashed potatoes, stuffing, and more, make a reservation at Be Our Guest Restaurant, The Diamond Horseshoe, or the Liberty Tree Tavern!
PLYMOUTH, MASSACHUSETTS
America's Hometown Thanksgiving Celebration
Travel agents can book a vacation for the whole family to America's Hometown Thanksgiving Celebration in Plymouth! It hosts the country's only historically accurate parade, and its mission is to "educate the public while preserving our country's important history." Every year the parade features new floats tailored to themes, such as last year's D-Day's 75th Anniversary and Apollo 11 – 50th Anniversary floats. The festival also features multiple concerts, a beer & wine garden, food trucks, a farmers market, historic villages, and living historians!
FRANKENMUTH, MICHIGAN
Zehnder's of Frankenmuth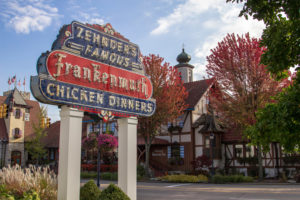 Frankenmuth is the perfect destination if your client is traveling but still wants to eat a Thanksgiving feast. The restaurant doesn't serve traditional turkey, but their 3-course chicken dinner became famous after the restaurant opened in 1856. The meal is served family-style, meaning the courses are brought to the dining table and guests serve themselves. The meal features soup, 7 appetizers, 7 entrees, and dessert. Some of the mouth-watering fixings include house-made cranberry relish, creamy mashed potatoes, fall vegetables, and delicious rotisserie chicken!
SANTA FE, NEW MEXICO
Indian Market
There is no better way to honor generations of Indigenous Tribes than attending the annual Indian Market, hosted by the Southwestern Association for Indian Arts (SWAIA). The market began in 1922 as a celebration of Southwestern art, but has since evolved to encompass all regions of the United States and Canada. The festival is held from August 17th–21st along the streets of sunny Santa Fe, New Mexico. Your clients can walk through art galleries, eat local cuisine, watch traditional performances, and purchase expertly made handicrafts!
LEAVENWORTH, WASHINGTON
Christkindlmarkt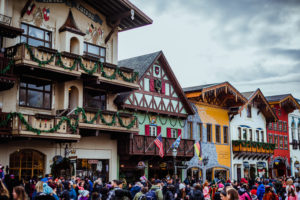 In Leavenworth, your client will step into a genuine Bavarian-style Christmas Market! The town square is decorated with colorful Christmas lights, garland, holly berries, and typically, a fresh layer of snow to prepare your traveler for the upcoming winter season. The market is open every Thanksgiving weekend and vendors sell mulled wine, Bavarian food, roasted chestnuts, handicrafts, and other small products.
The Takeaway
Thanksgiving is a time for celebration and a time for travel! When your client is ready to schedule their fall vacation, give Sky Bird a call at 888-SKY-BIRD! We'll help arrange airfare, transportation, activities, and accommodation for their journey. Our representatives are waiting to find you the best deals, so you can focus on the busy holiday season.