China's been flourishing since the 13th century BC, operating under various dynasties. It's not only larger than all other Asian countries, but it's the most populated country in the world. The land's split up into 33 administrative units consisting of 22 provinces, 5 autonomous regions, 4 municipalities, and 2 special administrative regions. It's almost impossible for travel agents to know every landmark, so Sky Bird compiled a list of our agents most beloved locations!
CHINA FOR THE HISTORY BUFF
The Terracotta Army (Xi'an)
The city of Xi'an, formally Chang'an, is one of the Chinese Four Great Ancient Capitals. Numerous dynasties lived here, including the renowned Qin Empire (221-207 BC) led by Emperor Qin Shi Huang. Built at the foot of Mount Li, the Terracotta Army Mausoleum Site Museum is a must-see for history buffs. The collection exhibits 8,000 unique terracotta sculptures of chariots, weapons, horses, and warriors that were sealed in the emperor's tomb for protection in the afterlife.
Nearby: Mausoleum of the First Qin Emperor and Huaqing Palace
Rock Carvings (Dazu)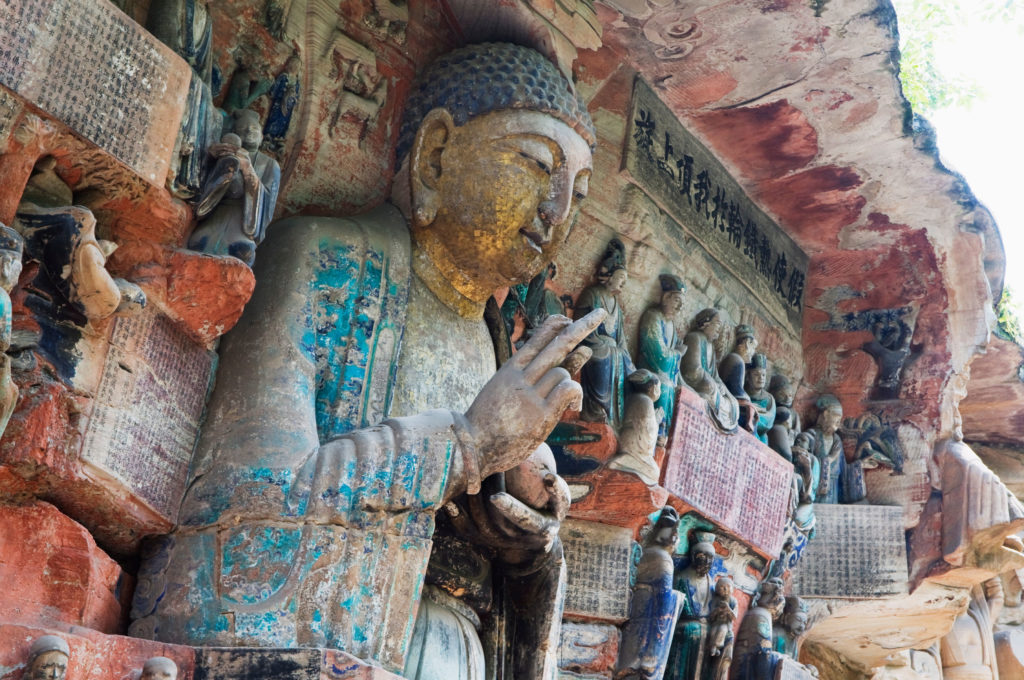 The Dazu Rock Carvings UNESCO World Heritage Site is 167 km (100 mi) outside of Chongqing. From the Tang Dynasty (618-907 AD) until the Qing Dynasty (1636-1911 AD) more than 50,000 statues and over 100,000 inscriptions were carved into cliff grottos. There are five main rock carving groups: Beishan, Baodingshan, Nanshan, Shizhuanshan, and Shimenshan. A private tour of the rock carvings will enchant your clients with close-up views and a historical background.
Nearby: Chongqing Longshui Lake and Yulongshan National Forest Park
CHINA FOR THE BACKPACKER
Stone Forest (Yunnan)
Shilin Yi is an autonomous country boasting one of nature's most wonderful creations, the Shilin Stone Forest. Over 200 million years ago the area was covered in water, where sandstone and limestone deposits quickly accumulated. Over time the stones were weathered down from exposure to decades of water and tectonic plate movement. These formations resemble pine trees sticking up to 30 m (100 ft) out of the ground, which creates the illusion of a forest of stone trees. For a special experience, clients can celebrate the Torch Festival with the Yi people in August.
Nearby: Dadieshui Waterfall and Zhiyun Cave
Jiuxiang Cave (Kunming)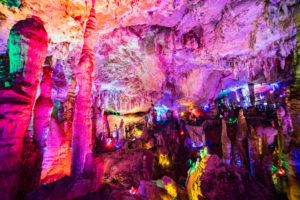 Kunming is the capital of the Yunnan province and an excellent location for backpackers. The Jiuxiang Caves is a cluster of almost 100 caves entirely underground the city, and your traveler will be awestruck after the brief boat trip and descent underground. There are even two 30 m (100 ft) high waterfalls and a rare terraced rock formation at the Lying Dragon Cave. Because the city is hub for transportation, transferring to Vietnam, Laos, or Thailand will be a breeze.
Nearby: Cixiong Waterfall and Xiaocao Dam Scenic Resort
CHINA FOR THE FASHIONISTA
Yiwu Market (Zhejiang)
In Zhejiang, a two-hour train ride from Shanghai is Yiwu International Trade City. Split into 5 districts with almost 10,000 businesses in each building, this is more than your average shopping mall. Their different departments include kids toys, flowers, clothing, jewelry, accessories, arts and crafts, home appliances, suitcases, office supplies, stationary, calendars, and other imported wares. We recommend booking your clients a local guide to help navigate the market, order and ship purchases, and communicate with the vendors.
Nearby: Binwang Market and Yiwu Xiuhu Park
(FCC) Former French Concession (Shanghai)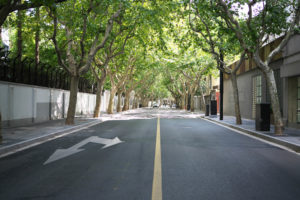 There are tons of hip cafes, restaurants, art galleries, boutiques, and antique stores along the FCC! The Avocado Lady on Wulumqui Road sells exotic food, like gourmet jams, cheeses, and olive oils. If your clients are looking for high-end fashion boutiques, suggest Xinele Road and Changle Road. The most fashion-forward street in the FCC, however, is Huaihai Road with dozens of international flagships, designers, and department stores.
Nearby: Xintiandi and Glass Museum of China
CHINA FOR THE FOODIE
Floating Market (Cai Rang)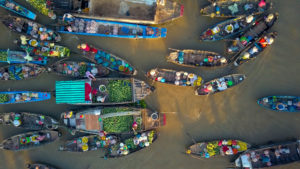 Every morning, local vendors tow their boats out before sunrise to sell their delicious goods on the floating market! By lunchtime, the fragrance of fresh seafood cooking on grills in the wooden boats radiates throughout the market. Almost everything from fruits and handicrafts to bonsais are for sale, so clients will have tons of different options. If they find something to buy, a boat will come right to them!
Nearby: Ong Temple and Quang Duc Pagoda
Tea Culture
Tea has been shared in almost every culture, but never the same twice. In China, tea usually has medicinal purposes. Your clients will enjoy a private tea ceremony that features different teas from around the country and education on their cultural significance. There will also be an instructional ceremony that details the optimal water temperature for different teas, how to drink tea to feel its effects, and the different size teacups. At the end, your client can try their hand at pouring ritual tea for a tea master.
Nearby: Most tours will stop at a traditional tea room or tea shop.
Tour China Today!
If your client's ready to embark on a vacation to China, then this travel guide will lead you to the best activities, eats, and shopping! Check out the blog China for Clients—Part II to access more content for families, luxury travelers, photographers, and art lovers. Plus, Sky Bird Travel can help with more than just planning the itinerary. When travel agents register for our WINGS Booking Engine, they gain access to 3 Global Distribution Systems (GDS), discounted travel fares, opportunities for higher commission, and more. Already have a WINGS account? Log in now!