Sky Bird's tours divisions, Sky Vacations' Dubai packages are specially designed to expose your clients to Dubai's best features, inside and out. Travelers who love outdoor activity will find plenty to do in this tremendous city. Continue reading for Dubai's best outdoor ventures.
Dune Bashing Desert Safari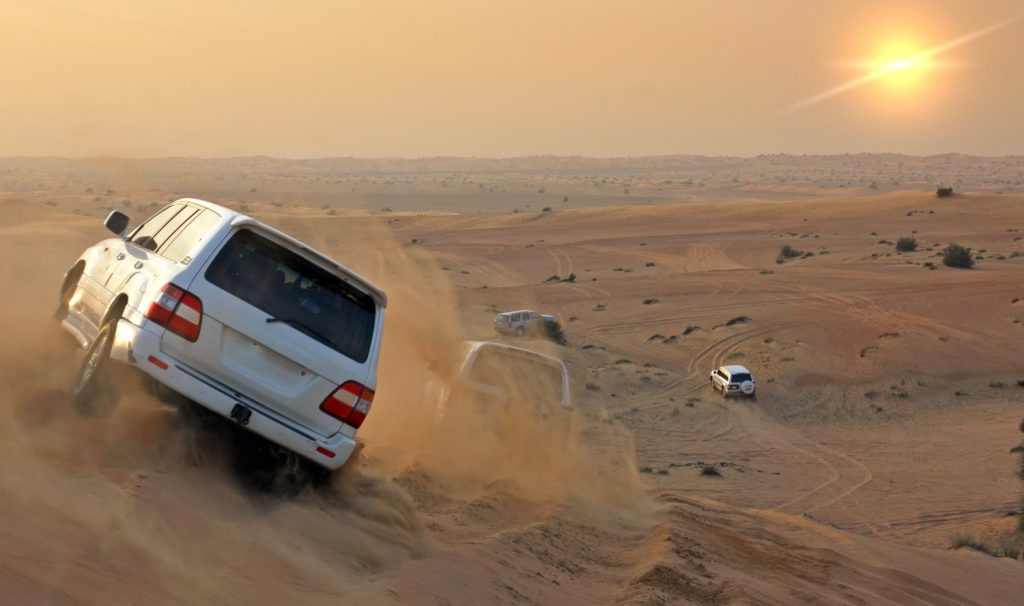 Clients looking for heart-pumping thrills can't miss a dune bashing experience with one of Dubai's Desert Safari companies. Tours can accommodate individuals or large groups and provide morning, evening, or overnight options at a furnished campsite. Tour activities include dune bashing in a 4×4 vehicle or quad bike, camel riding, sandboarding, and so much more.
A highly recommended excursion that fits easily into Sky Vacations' 5-day/4-night Dubai package is the Heritage Dinner Safari complete with a ride through the Dubai Desert Conservation Reserve, falconry display and camel ride before ending with a feast on traditional cuisine. If sand grit is not a preferred accessory, tell your clients about desert hot air balloon rides or luxury camping under the stars.
Al Qudra Cycling Track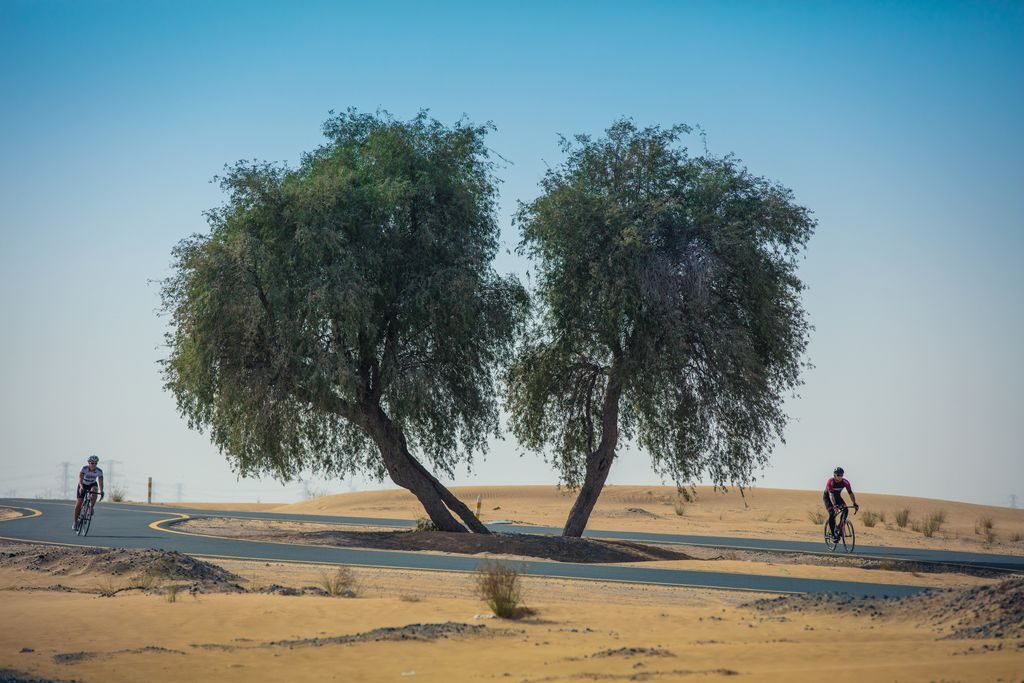 The Al Qudra Cycling Track is about 86 kilometers (53 miles) in full and consists of incredible views around Al Qudra Lakes. The lakes sprawl across the desert are punctuated by Love Lake. This new member of Dubai's architectural surprises was installed in 2018 in the middle of the desert. The waterways of this manmade lake are shaped like two interlocking hearts – an attractive oasis for visitors – and are peppered with rest stops and cafes.
If your clients enjoy cycling, introduce them to Al Qudra Cycling Track. Aside from the availability of group desert cycling tours and different loops that allow riders to customize their route, Al Qudra is a platform to witness magical sunrises and sunsets.
Nad Al Sheba Cycle Park is another cycling option located about 15 kilometers from downtown Dubai. There are 4-, 6-, and 8-kilometer paths that allow clients to sightsee as they pedal. Bikes can be rented at Trek Bicycle Store, located in Dubai and Al Qudra.
Dubai's Beaches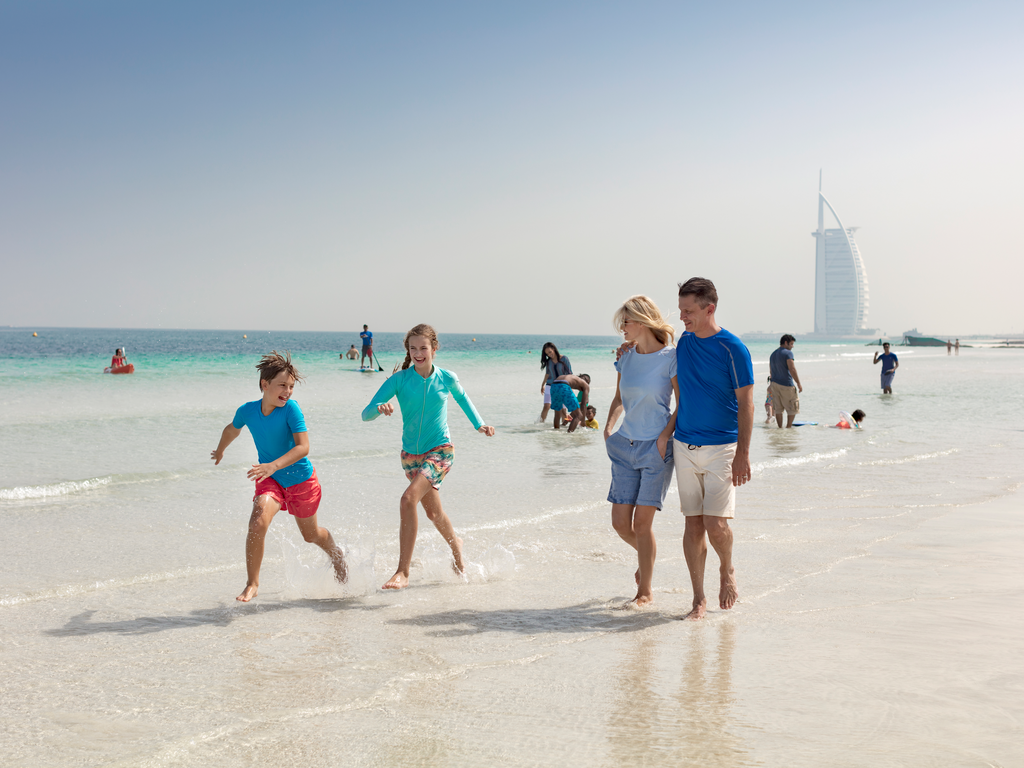 Hugged by the Persian Gulf, the length of Dubai is bordered by beaches renowned for their pristine soft sand, visitor amenities, and breathtaking views of the Burj Al Arab. Jumeirah Beach holds the status of "most popular beach in Dubai" and is an encompassing visit for clients who don't have a lot of time to explore, as it's peppered with cafes, barbecue pits, beach activities, and views that allow a hefty serving of Dubai in one place. Some of Dubai's other notable beaches include Umm Suqeim Beach, Al Mamzar Beach, and Kite Beach for watersport enthusiasts.
Note that some of Dubai's beaches have an entry fee (e.g. Jumeirah Beach—but its Public Beach is free—and Al Mamzar Beach), but there are plenty of public beaches that don't charge admission. It is also beneficial to let your clients know about Dubai beach etiquette and review designated "ladies days" (only women and children allowed).
Hatta Mountain Town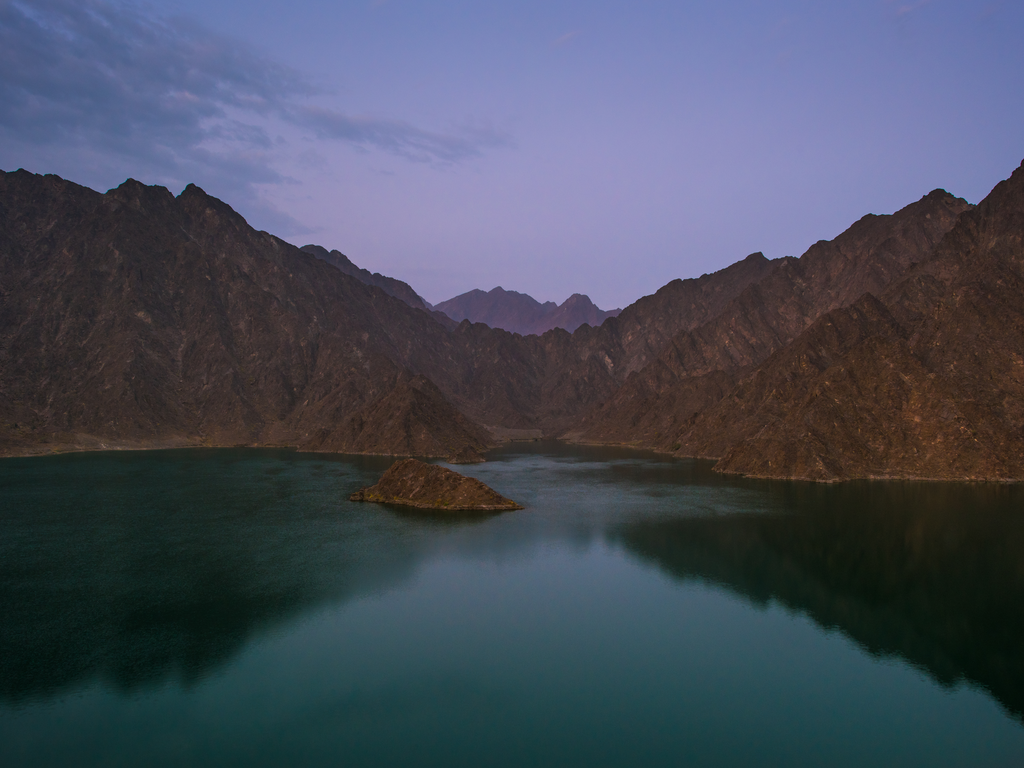 Rolling sand dunes isn't Dubai's only brand of terrain. About 115 kilometers (71.5 miles) southeast is the mountain town of Hatta. This is where outdoor-loving clients can bask in the magnificent nature just outside of the nonstop metropolis. Hiking and mountain bike trails run throughout the Hatta Mountains. The Hatta Water Dam's smooth turquoise waters are ideal for kayaking, paddle boarding, sup boarding, and other watersports. Plus, adventurous travelers will not want to miss out on riding the world's longest zip line, Twin Zipline, at Hatta Hill Park.
Hatta is a stark change from the hustle and bustle of downtown Dubai. Clients who favor mountains and natural wonders over skyscrapers will adore a trip to Hatta. Sky Vacations can work it into your tour package to achieve your clients' preferred balance of city and nature.
Atlantis Aquaventure Water Park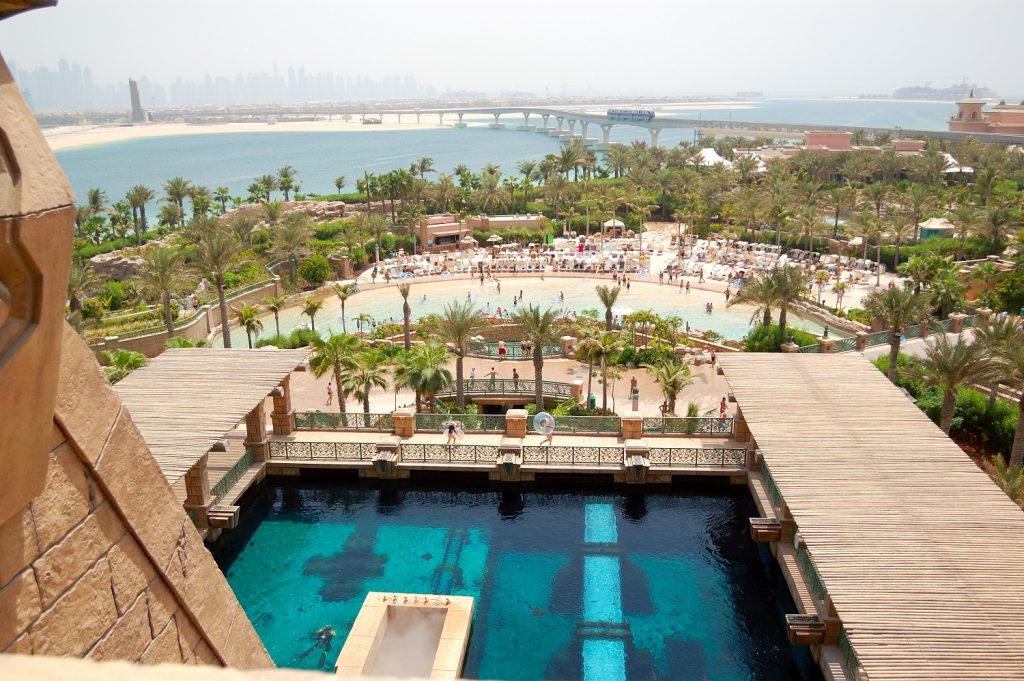 Every waterslide and ride in this outdoor water park is a surge of adrenaline and a thrilling way to beat the heat in Dubai. The trinity of waterslides that have made it a legend in the Middle East are Tower of Poseidon, Leap of Faith, and Poseidon's Revenge, but the park is also host to lazy rivers and a section where kids can safely run wild called Splasher's Island.
The Souks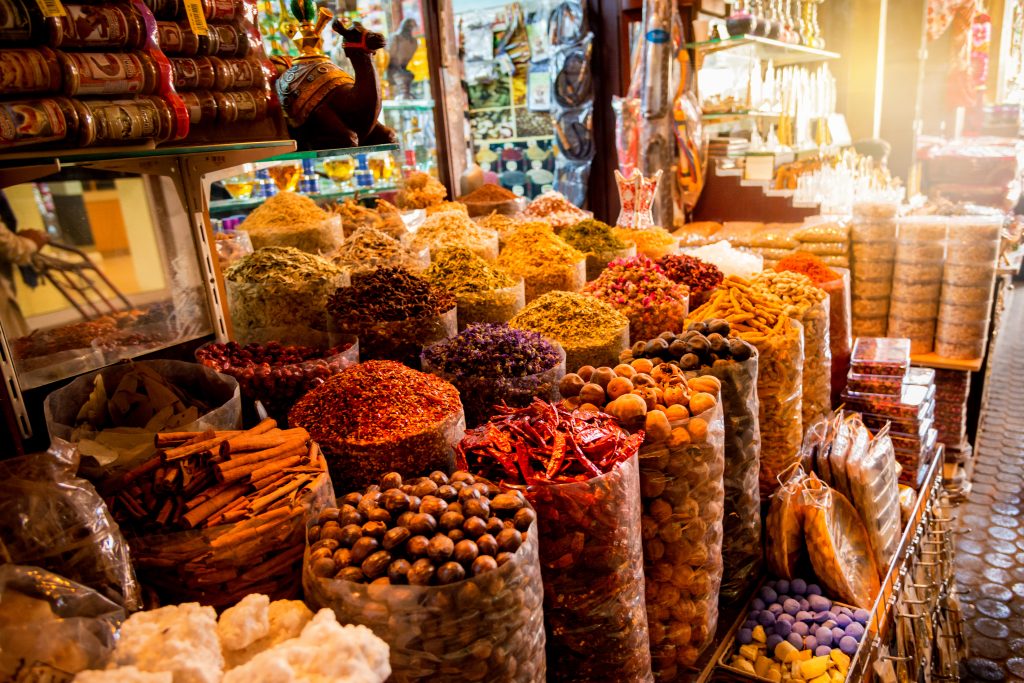 Visiting Dubai's Souks is critical to experiencing Arab marketplaces and finding unique mementos and souvenirs. The north end of Dubai holds the reputable Gold, Perfume, Spice and Textile Souks, scattered in close proximity to one another for easy market-hopping. Souks outside of the cluster include Souk Madinat, vending a bit of everything from fine art to clothing; The Dubai Mall Souk, specializing in jewelry and stone design; and Souk Al Bahar, a modern take on a traditional Arabian marketplace.
Whether you're planning a multi-day Dubai experience or you're packing a travel time crunch, Sky Vacations allows you to earn commission by creating the most fulfilling Dubai experience for your clients.
See our packages here or call 877-666-3113 to learn more!