Satisfy your clients' taste for luxury with a Dubai vacation that showcases the city's most opulent features. Whether clients want to be pampered with superior hospitality, private yacht cruises, architectural marvels, spa retreats, or delicious food, you can count on Sky Bird's tours division, Sky Vacations, to do it all.

Here are some of the most luxurious things you can treat your clients to in Dubai:
Dream Car Rental
Luxury begins as soon as your clients arrive in Dubai when you have their dream car waiting for them at the airport. Visitors can rent a luxury car to drive during their stay and the available models range from Audis, BMWs, Lamborghinis, Ferraris, and Porsches—and that's just the sports car variety. Put your clients behind the wheel in style with Dubai's luxury car rental.
Royal Rooms: Dubai Hotels and Resorts
Burj Al Arab Hotel
This sail-shaped architectural wonder protrudes from a manmade island connected to Jumeirah Beach. Hotel guests are transported in a chauffeur-driven Rolls Royce, or have the option to book Burj Al Arab's personal helicopter transfer service from Dubai International Airport to the hotel's private helipad.
Over 200 bedroom suites are available with the smallest matching the size of a 3-bedroom house and the largest resembling a luxury mansion at more than 8,000 sq ft. In addition to massive rooms, Burj Al Arab has five swimming pools (three outdoor, two indoor), nine world-class restaurants and lounges, and the Talise Spa overlooking the stunning Arabian Gulf.
Each guest receives 24/7 private butler service, private access to Jumeirah Beach, unlimited access to Wild Wadi Waterpark nearby, exclusive tours along the gulf via private yacht, and a surplus of other amenities that will make your clients feel like royalty.
Madinat Jumeirah Resort
About 2 kilometers southeast of Burj Al Arab is the Madinat Jumeirah Resort. The resort is designed to mimic the magnificent surroundings of ancient Arabia, threaded with jewel-colored waterways and luscious gardens weaving between neighborhood buildings. Book a stay at one of the three grand hotels located within the resort, or rent one of the 29 summer homes in the Jumeirah Dar Al Masyaf courtyard. Guests can stroll along 2 kilometers of private beachfront that hugs the resort's edge, make a splash at Wild Wadi Waterpark, and fulfill a dream shopping experience at the Souk Madinat Jumeirah.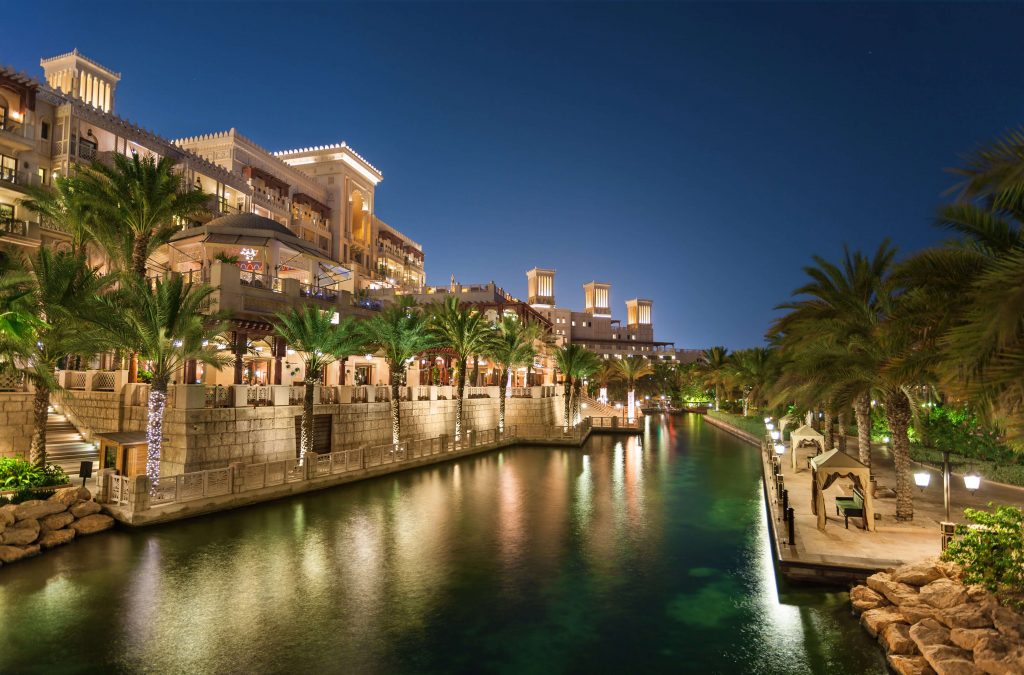 Emerald Palace Kempinski
The Emerald Palace Kempinski emits luxury of another world – 18th century continental Europe to be exact. Located on the center arc of the Palm Jumeirah, the 5-star luxury fortress resembles the era's massive palaces. The palace's east side is lined by 500 meters of private beach and the larger than life property hosts the world's biggest indoor pool (22.5 meters), a skyline-facing outdoor pool, five epicurean restaurants, a 3,000 sq meter luxury spa, and much more. You'll want more than one day in Dubai to relish in this kingdom. Luckily, Sky Vacations' tour packages last five days!
Desert Luxury
Leave it to Dubai to turn an overnight stay in the desert into a glamorous getaway that defines "Desert Luxury." Guests are transported about an hour from Dubai's downtown to a desert oasis furnished with Bedouin-style tents. Each are equipped with temperature-controlled infinity pools, handcrafted furniture including a king-size bed, and a private sun deck overlooking the desert. During their stay, guests can partake in unforgettable Desert activities like camel/horse riding, dune bashing, falconry, wildlife safaris, and more.
Luxury Yacht Cruises
Soak in Dubai's lavish skyline from the comforts of a luxury yacht floating along the Arabian Gulf. Organize a serene water voyage for a couple's dream honeymoon on a private vessel or aboard a yacht massive enough for its own kitchen, dance floor, lounge area, sun deck, and more. Cruise routes by Dubai's astonishing developments like Jumeriah Beach Hotel, Burj Al Arab, Atlantis Hotel, and around Palm Island while gracing passengers with amenities fit for a king.
Opulent Dining
Do you prefer a table by the water or in the sky? When it comes to Dubai's dining options, you could enjoy a meal at both. Submerge your dining experience at Nathan Outlaw at Al Mahara, located in the Burj Al Arab. A massive aquarium in the middle of the 5-star restaurant gives guests an underwater experience as tropical fish swim among colorful corals. Dine above water at Pierchic, a restaurant specializing in European cuisine positioned on a wooden pier that extends from the shores of Madinat Jumeirah.
Those looking to take their taste buds to jaw-dropping heights should make a reservation at At.mosphere. The world's highest restaurant on Burj Khalifa's 122nd floor is lined with floor-to-ceiling windows, giving guests a true feeling of dining on top of the world. The menu includes creations for breakfast, lunch, and dinner; not to mention a divine beverage list that you can sample at The Lounge.
Discover how you can pack the most luxury into a stay in Dubai by browsing Sky Vacations' customizable Dubai package here!