Showcasing the landmarks that make up the city of Dubai can be a monumental addition to your clients' visit. Whether you are working with a full vacation or a brief stopover, our tours division, Sky Vacations, has customizable Dubai packages that get clients up close and personal with the city.
City Sights and Attractions
Burj Khalifa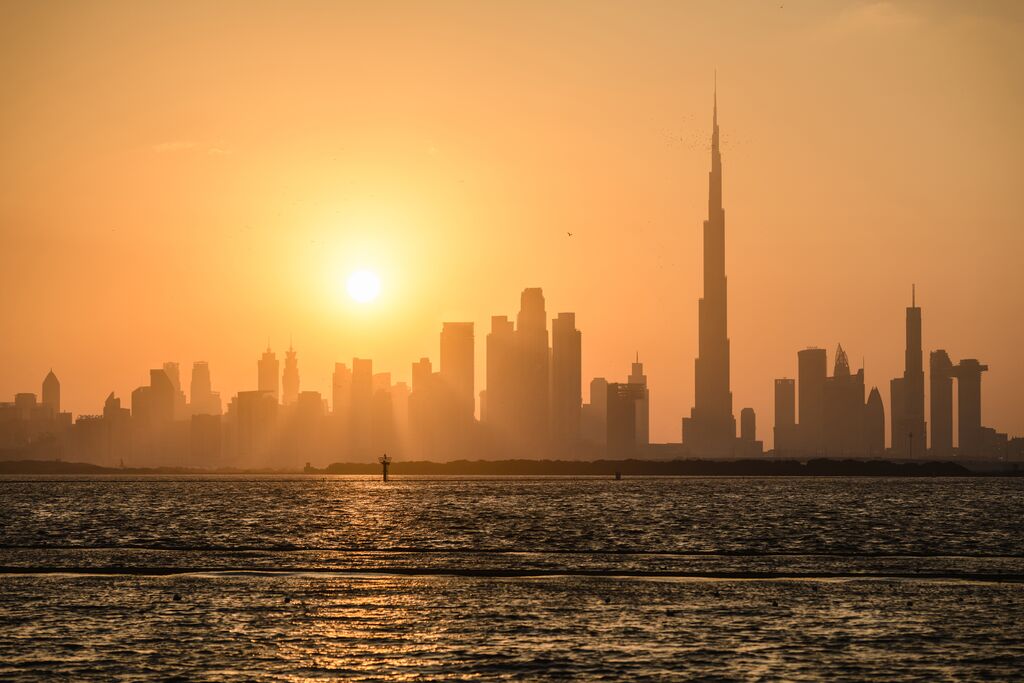 The enormity of the world's tallest building is unimaginable. One can see Burj Khalifa jet from the horizon when approaching Dubai's shores from the Arabian Gulf, reaching dozens of stories above its neighboring skyscrapers. Burj Khalifa measures 828 meters (2,716 feet) tall and has 163 floors hosting private residences, offices, the Armani Hotel, and At.mosphere, the world's highest restaurant. Two outdoor observation decks, located on the 124th and 148th floor, give visitors a panoramic view of the extravagant city stretching into the gulf's pure blue waters.
At the base of Burj Khalifa is the Dubai Fountain, a spectacle that "wows" visitors with hydraulic choreography and beautiful music. Urge clients to catch an evening show, running every 20-30 minutes from 6-11 p.m. each night.
Palm Jumeirah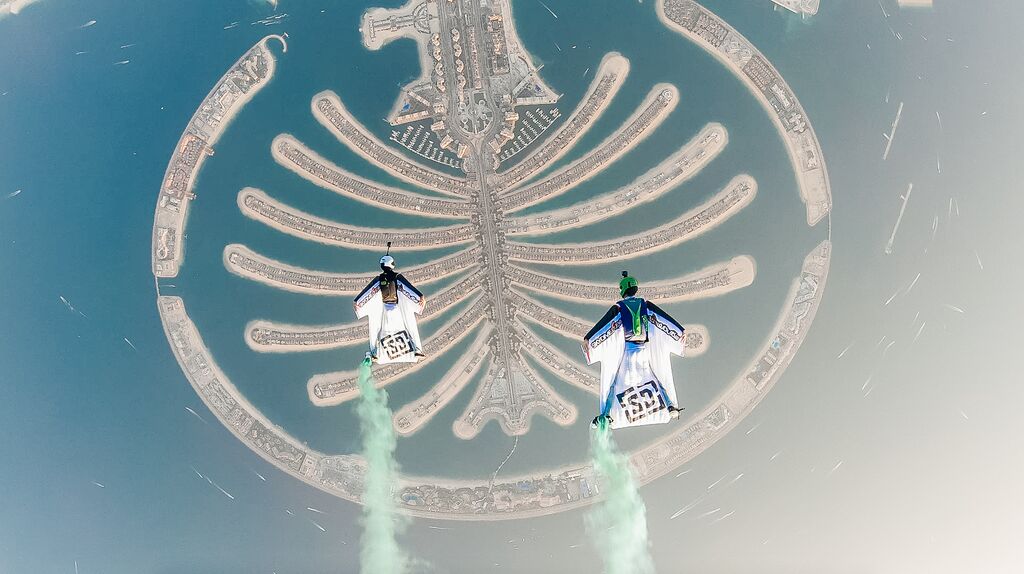 The size, shape, and precise symmetry of Dubai's famed artificial island leads to scads of nicknames including "an engineering masterpiece" and "the 8th wonder of the world." It was built to answer the city's demand for more real estate and now houses 1,500 private mansions and hotels.
Visitors can ride the Palm Jumeirah Monorail that traverses the "trunk" of the palm-shaped island; absorbing sights lush with palm trees, weaving roads, and Middle Eastern-style buildings and mansions before ending at Atlantis, The Palm hotel. While taking the monorail is a perfectly satisfying way to see Palm Jumeirah, others insist skydiving or partaking in a helicopter tour are far more superior methods.
Burj Al Arab Hotel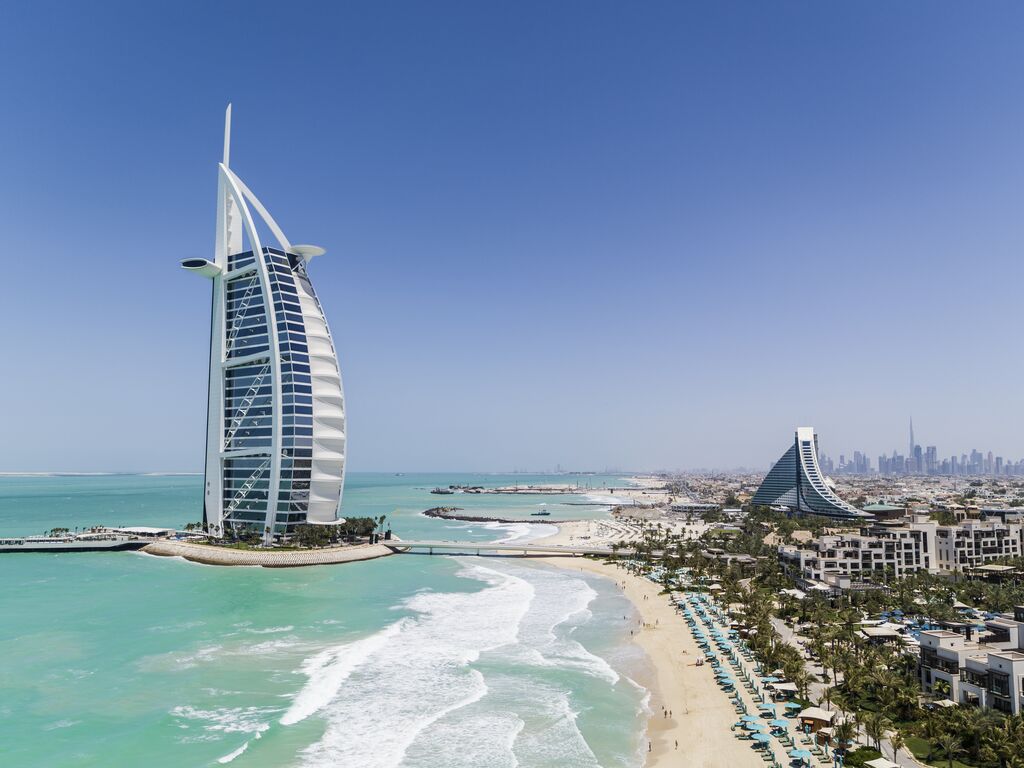 This sail-shaped architectural wonder protrudes from a manmade island connected to Jumeirah Beach. Those who stay at the Burj Al Arab are transported in a chauffeur-driven Rolls Royce, or guests have the option of booking the hotel's personal helicopter transfer service from Dubai International Airport to the hotel's private helipad.
Over 200 bedroom suites are housed in this dazzling structure. The smallest room matches the size of a 3-bedroom house. In contrast, the largest room resembles a luxury mansion at more than 8,000 sq ft. In addition to massive rooms, Burj Al Arab has five swimming pools (three outdoor, two indoor), nine world-class restaurants and lounges, and the Talise Spa overlooking the stunning Arabian Gulf.
Dubai Frame
Located in Zabeel Park, the Dubai Frame is a cultural landmark, not to mention the world's largest picture frame. It stands 150 meters (492 feet) tall and 93 meters (305 feet) wide, framing the distant city between gold-colored stainless steel boarders. The sculpture was created to celebrate Dubai's history and represents the city's past, present, and future. Visitors enter the frame at ground-level and are immersed into the fascinating story of Dubai's development with interactive exhibits.
A speedy elevator ride brings passengers to the top floor that bridges the frame's towering sides. This special viewpoint envelopes viewers with sights of modern Dubai on one side and the neighborhoods of Old Dubai on the other. The experience is boasted as a can't-miss excursion and is best enjoyed right before sunset.
Dubai City Tour: Full Day or Half Day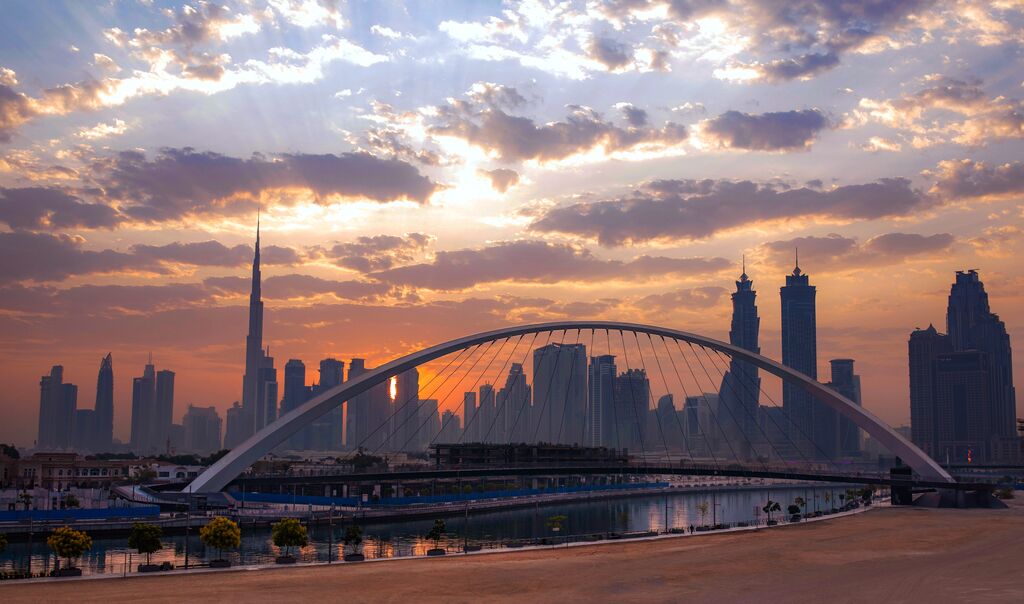 These city tours pack all of Dubai's must-sees into a morning or afternoon event. After visiting the Dubai Museum, clients walk through the streets of the Al Fahidi Historical District.  The old neighborhood reveals its past as a fishing village before evolving into the city we know today. An abra boat ride across Dubai Creek goes to the Souks, exposing shoppers to a traditional Arabic marketplace and a nirvana of unique souvenirs. In contrast to exploring historical Dubai, a city tour showcases the contemporary sail-shaped design of Burj Al Arab. Additional stops include the photogenic Jumeirah Mosque, the City Market, the Dubai Mall and more.
Sky Vacations offers two customizable city tours in both of its curated Dubai packages. You can use these tours as recommendations and cater them to your clients' liking. Click here to browse 5-day Dubai packages starting as low as $430 per person! Call Sky Vacations (877-666-3113) to start crafting today!