October 20, 2020 will be day one of Expo 2020 Dubai; the international, globally awe-striking event that leaves visitors speechless once every five years. To make sure everyone who wants to witness this worldwide spectacle can, Sky Bird Travel & Tours connects travel agents with the best fares on Emirates.


A Review of World Expos
World Expos have gone by many different names since the first one happened in 1851 to showcase London's Crystal Palace and other feats that came from the Industrial Revolution. The expo is a platform for countries to gather and show off their greatest achievements and for visitors to experience the whole world in one place.
World Expos introduced the telephone (Philadelphia, 1876), Ferris wheel (Chicago, 1893), escalators and motion pictures (Paris, 1900), and IMAX (Washington, 1974). These are the events that revealed the Statue of Liberty and Eiffel Tower (Paris, 1878 and 1889), and the Space Needle (1962, Seattle). This is where people got their first taste of Heinz Ketchup and ice cream cones!
It is surreal to imagine what it was like to be there when these things were experienced, seen, and tasted for the first time. It is nearly impossible to imagine what new technologies and inventions will be at Expo 2020 Dubai. Dubai already impresses the world with record-breaking architecture and a skyline that radiates a forward-thinking direction while harnessing a rich history. Structures like Burj Khalifa stuns many as the world's tallest building. The palm-shaped islands of Palm Jumeirah defies possibility as an engineering masterpiece. Dubai's characteristics, paired with it being the site of every country's most magnificent projects, make it a certain destination for those wanting to experience something like never before.
Expo 2020 Dubai: Connecting Minds, Creating the Future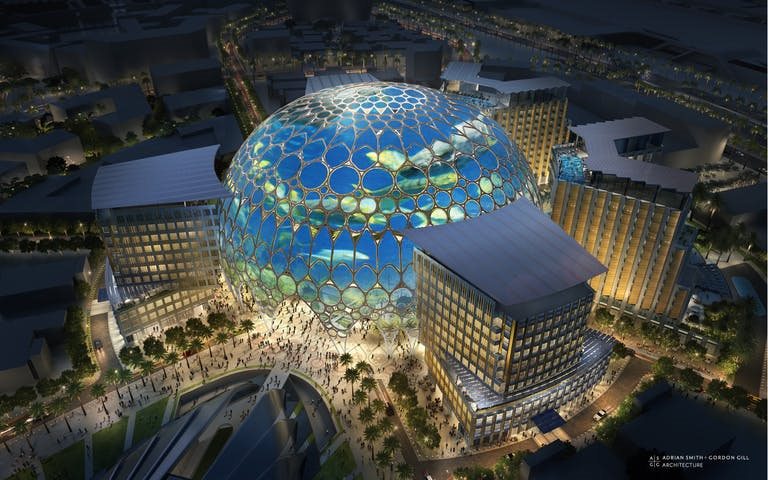 Expo 2020 Dubai takes place for six months, from October 20, 2020 to April 10, 2021. It invites the world to participate in a global celebration of human accomplishment. Having an idea of how massive this expo is puts you in a good position to offer your clients the experience of a lifetime. The expo's entire layout traces a 3-petaled lotus flower with a large glass dome at its center. It is a hypnotizing sight in itself, especially when motion pictures are being projected off of the dome's shell. The expo's overall theme is Connecting Minds, Creating the Future, and each petal represents one of three subthemes.
Expo 2020 Dubai Subthemes
Opportunity (Opti Pavilion) – showcases how we have the opportunity to change the world, for better or for worse.
Mobility (Alif Pavilion) – follows the evolution of mobility from ancient times to the digital age, and how physical and digital mobility shaped our world.
Sustainability (Terra Pavilion) – a look at alternative food, water, and energy sources as we realize how crucial it is to live in balance with our home planet.
Each of these subthemes is represented in its own thematic pavilion. These pavilions are architecturally striking buildings where visitors will witness the most impressive up-to-date progressions of the human race.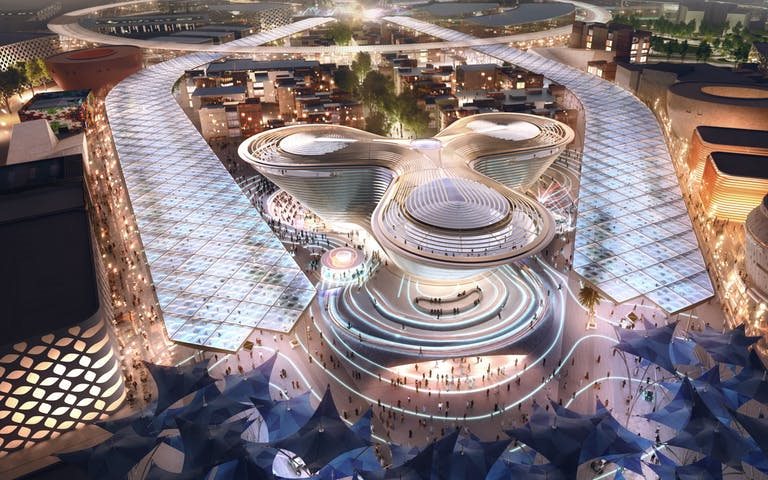 In addition to the thematic pavilions, the expo features over 190 pavilions of every participating country. Participating countries designed their pavilions to reflect personal progression and distinct culture. Attendees will experience tons of food from over 200 restaurants, live shows and demonstrations, interactive exhibits, and never-before-seen entertainment. Ticket options include:
1-day ticket at AED 120/$33 USD per adult
3-day ticket at AED 260/$71 USD per adult
Monthly and season passes (more info to come)
Expo 2020 Dubai tickets are available now. You can use our WINGS booking engine to search for flights on Emirates now. Browse flights here!