Vibrant with color, diverse geography, and a unique culture resulting from its dynamic population and history, Morocco is where you will satisfy your clients' craving for something different after a year at home. Plan the ultimate itinerary with these ideas on what to do in Morocco, one of our Top 10 Destinations for 2021.
Touchdown in Casablanca, Morocco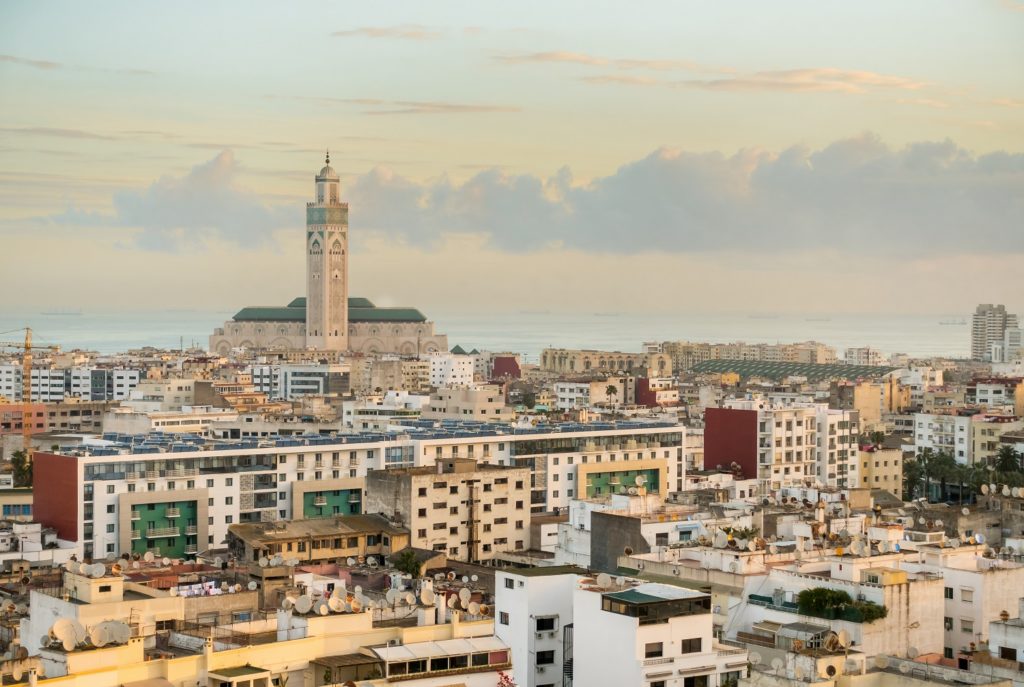 Home of Morocco's main airport, Mohammed V International Airport (CMN), the grand city of Casablanca is where most travelers begin their Moroccan vacation.
Travelers don't usually opt to stay in Casablanca for very long, heading to the cities of Marrakesh (to the south), Rabat (Morocco's capital to the northeast), or Fes (east of Rabat). However, if clients fancy a right-off-the-plane dose of Morocco's famous architecture, have them head north from the airport toward the ocean to visit the Hassan II Mosque. Offered tours, in several languages, give the public a chance to see inside Africa's second largest functioning mosque and admire the hand-crafted marble walls.

About four miles south of Hassan II Mosque is the Museum of Moroccan Judaism. This is the only Jewish museum in the Arab world, and is filled with ancient artifacts and items that honor Morocco's Jewish history.
Moroccan Historic Architecture
Morocco has four imperial cites, each of which has served as its capital at some point in time. If loving historic architecture is part of your clients' travel personality, there are more than a few places in Morocco to choose from. We've narrowed our list to these must-sees:
Rabat
Kasbah of Udayas – This historic fort and UNESCO heritage site was built in the 12th century. It was constructed as a defense against outside forces attempting to penetrate the newly founded city. Its placement where the Bou Regreg River opens into the Atlantic Ocean gave it a strategic viewpoint during this time, and now attracts visitors with a blend of history and ocean views.
Hassan Tower – Also a UNESCO heritage site, the Hassan Tower began with an aim at being the largest minaret (tower built into a mosque) in the world. However, construction was halted when Sultan Abu Yusuf Yacoub al-Mansur died in 1199. It now stands as an unfinished project that continues to captivate visitors as they walk among its incomplete ruins and lush outdoor garden.
Mausoleum of Mohammed V – A few steps southeast of the Hassan Tower is the Mausoleum of Mohammed V. Vietnamese architect Cong Vo Toan thoughtfully designed the mausoleum to promote a sense of Moroccan identity while also paying tribute to the Moroccan king. King Mohammed V and his two sons are buried here.
Domaine Ouled Thaleb – Traveling from Casablanca to Rabat – or vice versa – send clients on a detour to Morocco's oldest winery. They will get a taste of how Morocco's Mediterranean climate is prime for making wine.
Fes (oldest of the imperial cities)
University of al-Qarawiyyin – Initially founded as a mosque in 859 and joining Morocco's university system in 1963, Al Qarawiyyin is one of the world's oldest universities; surpassing Oxford University by 237 years. Although entrance is closed to non-Muslims, as it still operates as a mosque, visitors can walk around the campus that has seen generation after generation of Islamic students and religious educators.
Meknes
Bab el Mansour Monumental Gate – A famous landmark that is deemed as a can't-miss when visiting Meknes. The gate showcases Morocco's intricate and detailed architecture, with meticulously placed mosaic tile work and massive wooden doors framed by a detailed arch. The doors are usually closed unless a special exhibit is taking place, but visitors can still pass through the doorways on either side.
Marrakesh
El Badi Palace – Part of Marrakesh since the 16th century, it is hard to believe this palace is considered a ruin. It is incredibly intact despite neglect following the decline of the Saadian dynasty. Visitors spend time at this historical site exploring the grounds and taking in views from the roof showcasing the gardens' orange trees and reflecting pools. Open daily, 9 am-5 pm.
Bahia Palace – Another spectacular palace in Marrakesh and about a 10-minute walk from El Badi Palace. Although the palace is empty of decorations, like the artwork and furniture that once graced its interior, the colorful mosaics and stunning architecture make the palace a masterpiece in itself. Open daily, 9 am-5:45 pm.
Koutoubia Mosque – Non-Muslims are not allowed to enter the mosque, but the public is welcome to walk around its beautiful surrounding gardens. Across the street on the west side of the mosque is Parque Lalla Hasna (Lalla Hasna Park). Fountains, flowers, and a cornucopia of trees offer a small retreat from the surrounding urban bustle.
Outdoor Adventure
Toubkal National Park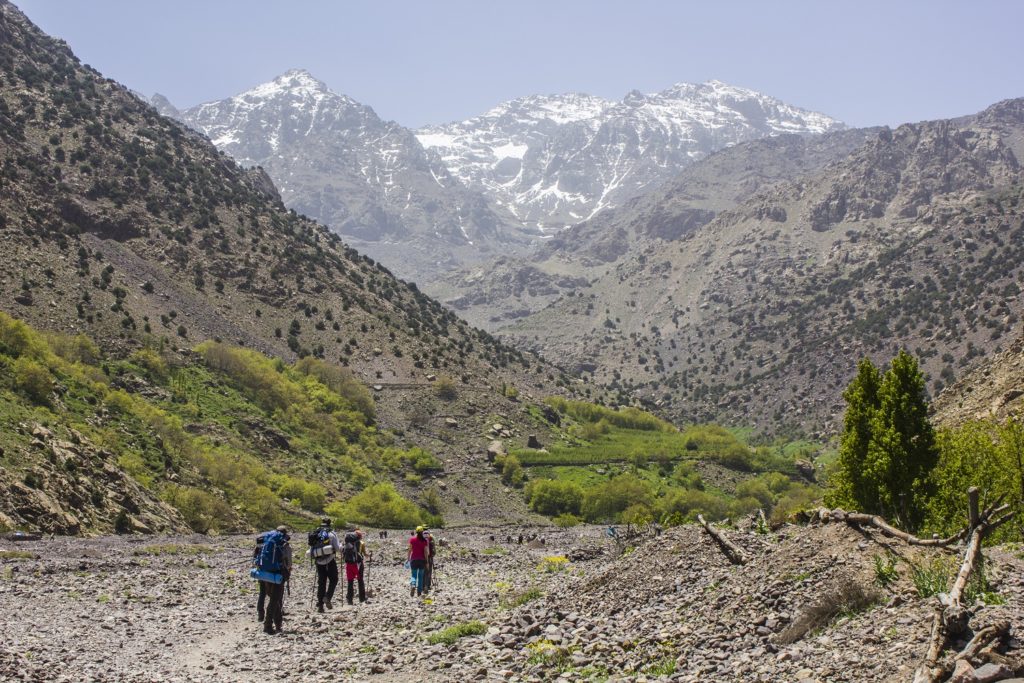 Blanketing 380 square kilometers (146.7 miles) of central Morocco is a dramatic shift in scenery as the landscape ascends to the Atlas Mountain range. Clients seeking one-on-one time with nature and a pause from the heat at sea level find a well-stocked inventory of hiking trails here.
Village of Imlil – A garden of riads that sprout at the foot of the High Atlas Mountains signify the rural village of Imlil. This small town introduces visitors to people who have nailed the art of living the simple life, along with trails that lead to North Africa's highest summit, Jbel Toubkal.
Jbel Toubkal – At 13,671 feet (4, 167 meters), this is Morocco's tallest mountain and an attractive challenge for hikers looking for a multi-day excursion. If this summiting adventure is in your clients' itinerary, do your research to prepare them for the elements. The hike is a challenge and concludes atop snowcapped mountains. But it also showcases views of the Atlas Mountains aren't achieved anywhere else.
Riff Mountains
Less strenuous terrain and paths less traveled attract many backpackers and low-budget travelers to the Riff Mountains. Many trails offer easy trekking and unbeatable views of the Mediterranean Sea to the north.
At the base of the mountains is the city of Chefchaouen, known as Chaouen by the locals and recognized as the Blue City. There is no metaphor as to why it is called the Blue City. All of the buildings, huddled closely in the foothills, are painted a shade of blue, giving the city a look of fantasy. There are many theories why everything was painted blue and there are certainly many opportunities to get a local's perspective while wandering through this friendly city.
Todra Gorge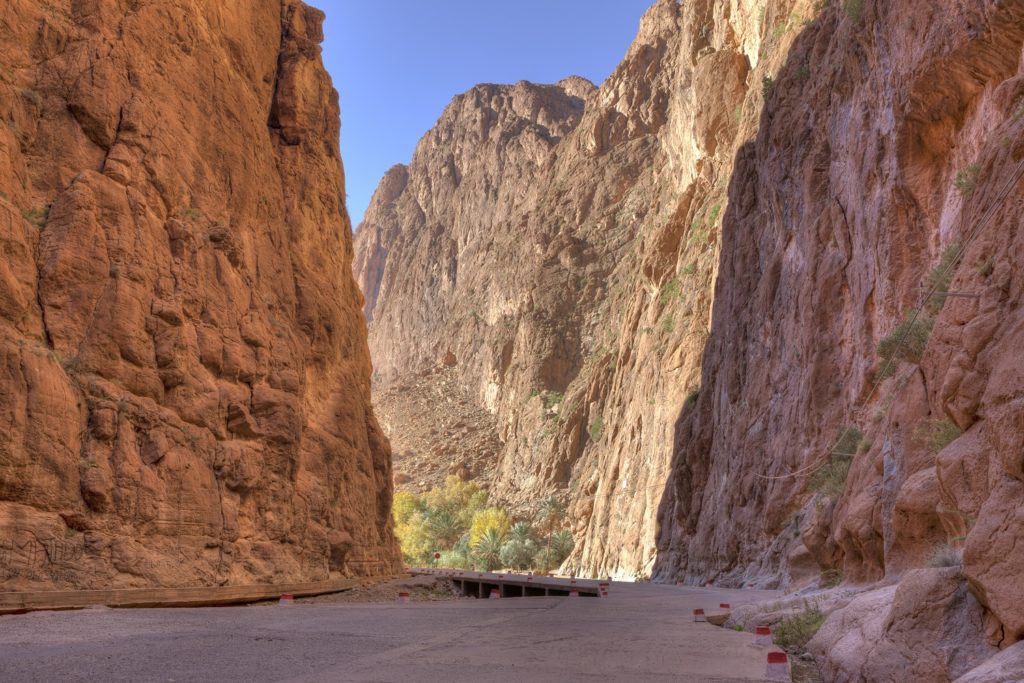 A day trip to the Todra Gorge, located in the eastern High Atlas Mountains, exposes visitors to Morocco's highest and narrowest canyons. Todra Gorge refers to a 600-meter stretch of the canyons where the walls narrow their gap to only 10 meters (32 feet). Starting from the base town in Tinerhir, getting to the gorge is an easy day hike that lends opportunity to light shopping at the pop-up shops along the canyons, rock climbing, and exploring deserted Kasbahs snuggled in the walls.
Sahara Desert Adventures
Partaking in desert adventure doesn't come often in day-to-day life. Booking an excursion in the Sahara gives adventurous clients a chance to check some things off their bucket lists with a variety of activities available through expert desert tour groups. Whether clients choose to take in these stunning surroundings on camelback or shredding sand on a 4-wheeler, desert exploration is an experience unlike any other. For an overnight desert experience, exquisite desert camping trips are available and guarantee a view of the stars like never before.
The Beaches in Morocco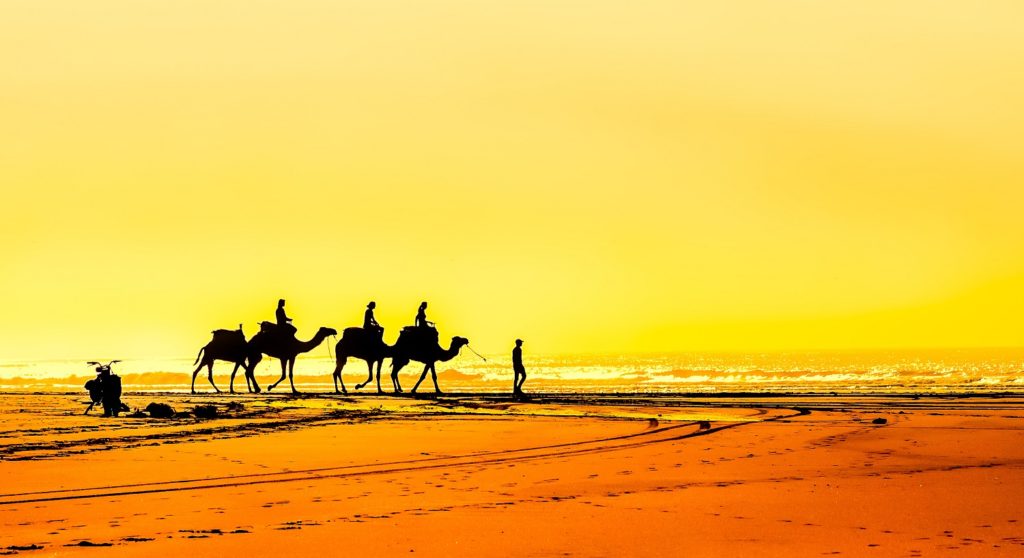 Perched near the northernmost point of Morocco is the city of Tangier. Miles of golden sand lace the east side of the city and serve as front row seats to magnificent sunsets over the Atlantic.
Achakkar Beach, Mikki Beach, and Plage Bakassem are a trio of beaches where visitors can enjoy more populated fun in the sun. Cafés, lounge chairs, and games of beach football (soccer if you're tuning in from America) energize the beaches with activity. Not to mention cooling off in those beautifully blue ocean waters.
Plage de Sidi Kacem, south of the previously mentioned trio, is said to be less crowded and peppered with charming French bistros and lounge chairs.
Essaouira Beach is located in the beach resort town of Essaouira, where no cars are allowed. Don't let the image of never-ending lounging on a private chaise fool you; Essaouira Beach is the place for watersports. All types of surfing (kite, wind, regular) and swimming let visitors actively beat the heat.
Shop Morocco
Rabat Old Market – Also known as Rabat Old Town, this area of the 12th century has evolved into a nirvana for travelers who want an authentic shopping experience in Morocco. This is where clients will find Berber carpets, overflowing buckets of by-the-bag spices, textiles, fashion pieces, antiques, and more. Visiting the various shops, restaurants, and cafés can easily take a whole day, and the bustling nightlife is worth staying up past bedtime for.
Jemaa el-fnaa – The main public square in Marrakesh. Locals and tourists alike head to Jemaa el Fnaa to shop and haggle over souvenirs and other goods. Booths vending Moroccan street food are peppered throughout, and it is said visiting at night gives way to an entirely different color palette. Send clients in the evening to witness a breathtaking sight as the sun sets behind the nearby Koutoubia Mosque.
Chefchaouen (Chaouen) – Circling back to the Blue City located at the base of the Riff Mountains, Chefchaouen is said to have the best bargains when it comes to shopping. The city is also known for its delicious goat cheese, wool garments, and woven blankets.

Choosing Morocco for your return to travel guarantees a surfeit of new experiences, sights, and opportunities to drench yourself in the countries unique traditions. Create a trip that covers everything clients want to do and see with our experts at our new Africa Desk (888-759-2473). You'll get one-on-one service with a team member who specializes in African travel, while securing the best fares on flights, hotels, rental cars, and land tours with WINGS.
If you are not registered with our newly updated booking engine, register here for free!
**While preparing travel, ensure you have the most up-to-date information on COVID-19 regulations, restrictions, and guidelines. As more countries open to tourism every week, keep yourself in the know by visiting our COVID-19 page.