Are you registered with the WINGS Booking Engine? Registration is free, after all. WINGS gives you the tools to manage your travel business more efficiently, starting with simplifying the process of building a full itinerary with flights, hotels, car rentals, tours, and land activities.
In this blog, we give an overview of building a trip on the WINGS Booking Engine. For a LIVE look at using WINGS, tune into one of our LIVE webinars that occur the second Thursday of every month at 2 pm EST.
1. SEARCHING FLIGHTS ON THE WINGS BOOKING ENGINE
WINGS gets the best fares from Sky Bird's 90+ airline partners through a multiple GDS search. This is helpful when your preferred airline isn't affiliated with your favorite GDS.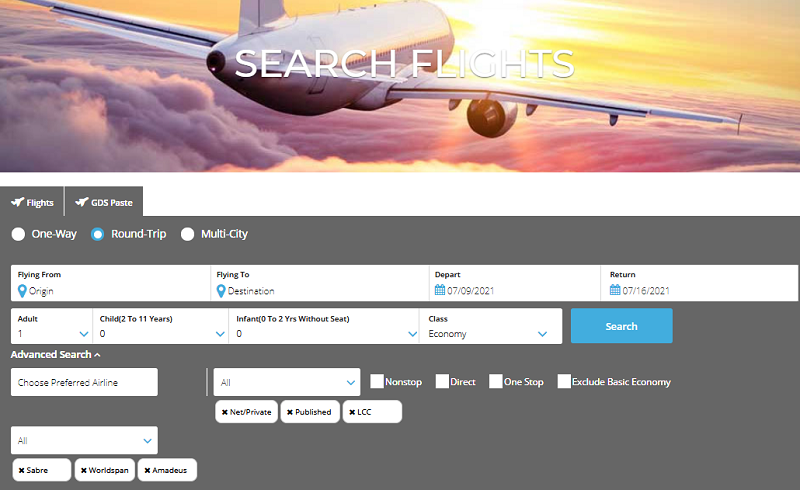 The WINGS Booking Engine's "Search Flight" page requires basic flight information in order to deliver results that fit your search. You can search One Way, Round Trip, or Multi-City (in which you can add up to six flights). The Advanced Search allows you to select a preferred airline, types of fares shown in the results, number of stops, and even which of our three GDS you would like searched.
When you've entered your information, hit "Search."
The results page delivers infinite flights to choose from. The Filter Options allow you to customize your search even further. Once you've found a flight that works for your client's needs, you can book it by clicking the "Book Now" button or save it to your itinerary by clicking "Add to Trip." This is a good option if you want to continue browsing and comparing flights before making a full commitment. Keep in mind that the flight you save will expire when your session time (2 hours) runs out.
When you do choose to "Book Now," you will be brought to checkout that gives you a detailed flight summary. Enter your passenger's information, choose a payment option, and fill out billing details. This is also where you can easily add travel insurance with AIG Travel Guard.

2. SEARCHING HOTELS ON THE WINGS BOOKING ENGINE
The WINGS Booking Engine delivers endless choices from luxury resorts to backpacker hostels for the best rates. You can even search apartments for longer trips.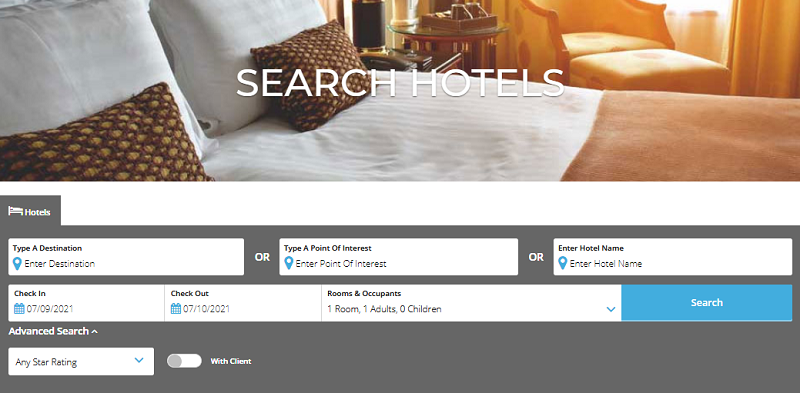 The search results page defaults to our top picks, which are the trendiest and highest rated in the area. To fit your client's budget, you can organize the results by price or rating. Further filter options allow you to narrow your options based on radius, offered amenities, accommodation type, and more. The WINGS Booking Engine aims to provide you with enough choices to find your client's perfect home away from home.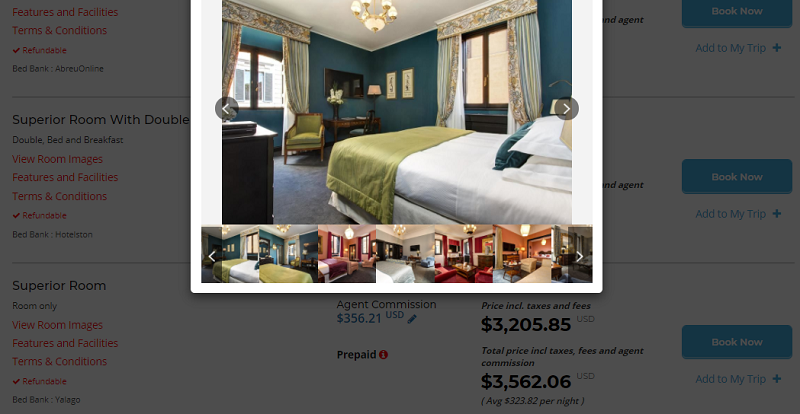 Selecting "Choose Room" on a hotel brings you to a detailed overview of said hotel. This is super-duper for vetting options as it allows you to see specific features and facilities. You can view room images, read terms and conditions, and see the price (with and without agent commission). As an agent, you can adjust the commission as you see fit.
When you've found a worthy room, you can either "Book Now" or "Add to My Trip." In the case of hotels, your session time is 1 hour.
3. CAR RENTAL ON THE WINGS BOOKING ENGINE

If your client plans to rent a car during their trip, you can secure it on the WINGS Booking Engine as well. By clicking "Cars" on the top bar of any of the search pages or at the bottom of your My Trip page, you can search a large inventory from travel's most trusted rental car brands.
When you've found a vehicle that fits your client's needs, click "Select." Before booking or saving the rental to your trip, you will be able to view further details and add additional additions (child seat, ski rack, etc.).
4. ADDING TOURS OR LAND ACTIVITIES ON THE WINGS BOOKING ENGINE
The WINGS Booking Engine gives you the ability to rhapsodize a client's itinerary by adding a tour or land activities. This can be done by clicking "Activities" or "Tours" at the top of any search page, or you can do it directly from the itinerary saved on your My Trip page.
Tours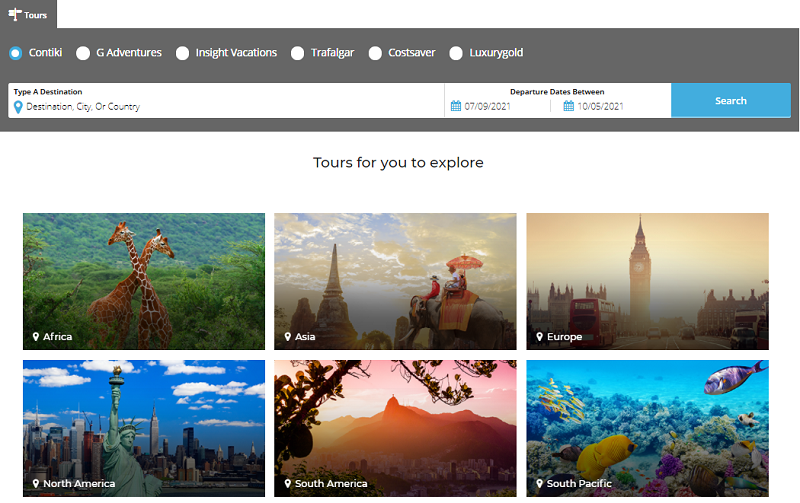 If your client wants to design a trip around a tour, begin your search here first.
Tours are multi-day excursions that generally include accommodation, meals, guides, private transportation, etc. Your search results are based on the dates your client is traveling. The WINGS Booking Engine updates its tour library regularly with the most clutch tours unique to the destination.
Activities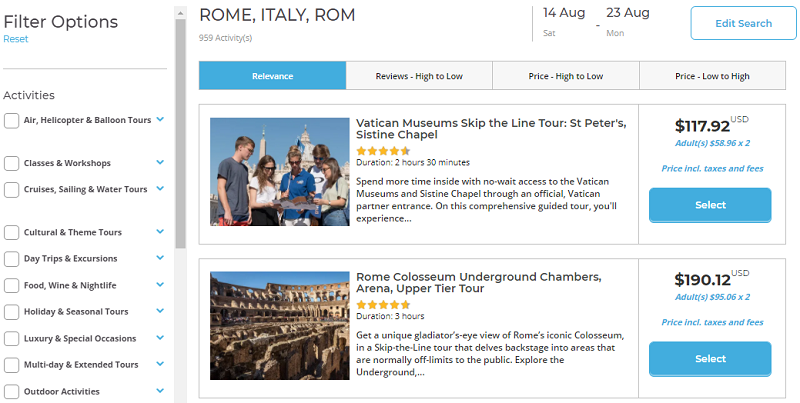 Land activities are short-term (lasting hours instead of days) experiences clients can do during their trip. Searching available activities over a date range yields scads of results that can be filtered further depending on what your client wants to do. Categories include air tours, classes & workshops, sightseeing tours, food & wine, spa, unique experiences, and many more.
Not only do these additions add a helping of Flavor Flav to your client's trip, but they also present the opportunity to sell more travel. That means more commission for you!
JOIN OUR LIVE WINGS WEBINAR
The WINGS Booking Engine gives you tools that empower you to take on more clients and have more control over your earnings. If you're terrified to use WINGS – even after reading this detailed blog – we invite you to tune in to one of our LIVE webinars, held the second Thursday of every month at 2 pm EST.
These webinars deliver a walkthrough of building a trip from the ground up so you can build your confidence with the booking engine. Check out our Facebook and Twitter to see when the next one is taking place.
Not registered with WINGS? You're missing out. Register for free here!