Few countries achieve the mix of seaside paradises and jaw-dropping ancient ruins that Greece manages. It is testament to the progressive origins of Western civilization contrasted with a lifestyle that urges visitors to "take it slow, just relax." We, at Sky Bird, have had a handful of inquires about this impressive country, making it one of our Top 10 Destinations for 2021. Continue reading for ideas on what to include when planning your clients' getaway to Greece.
MAIN AIRPORTS IN GREECE
Athens International Airport Eleftherios Venizelos (AIA)
Located on the mainland, Athens is Greece's largest and most popular city. It places visitors into the busier side of Greek culture with tons of entertainment, performing arts, shopping, and sports. The city, with its still standing ancient structures, captures an interactive timeline of Greece's evolution.
Thessaloniki Airport (SKG)
Thessaloniki is Greece's second largest city and home to its second largest airport. It is a great mainland stay for experiencing vibrant Greek city life without the crowd of Athens, and with a coastal view of the Thermaic Gulf. Thessaloniki possesses a collection of several UNESCO Bysantine churches, archaeological sites, noted museums, and Roman Monuments like the Triumphal Arch of Galerius, the White Tower, and the Rotunda.
TOP ATTRACTIONS IN GREECE
Ancient Greece in Athens
Combination/Multi-site/Special Package Ticket in Athens – A combination ticket covers entry to all of Athens' top historical attractions. It can be purchased at either of the participating sites or on the Greek Ministry of Culture and Sports' website. Travel blogger, Thomas Dowson, comprehensively covers all the details of regular and combine tickets in his blog post here.
The Acropolis in Athens and Acropolis Museum – The regal ruins are easily Athens' most popular site and are a must for anyone visiting. There are about 21 archaeological remains of temples, theatres, and other buildings dating back to the 5th century. The Archaeological Promenade, at the base of the Acropolis, offers a 2.5-kilometer path (1.5 miles) passing other ancient attractions of the area.
Temple of Hephaestus – Having been in use since the 7th century, this temple is famed as the most well-preserved temple in Athens. Located northwest of the Acropolis in the Agora of Athens.
Tower of the Winds – A few steps southeast of the Temple of Hephaestus, this magnificent marble clock tower functioned as a sundial, weathervane, and water clock around 50 B.C.
Panathenaic Stadium – A small jaunt east of the Acropolis and at the southeast corner of the National Garden of Athens, this is the only stadium in the world build entirely from marble. It has served as a venue to Olympic-level games, including the ancient Panathenaic Games and the actual 1896 and 2004 Olympics, since 330 B.C.
Other Historical and Archaeological Sites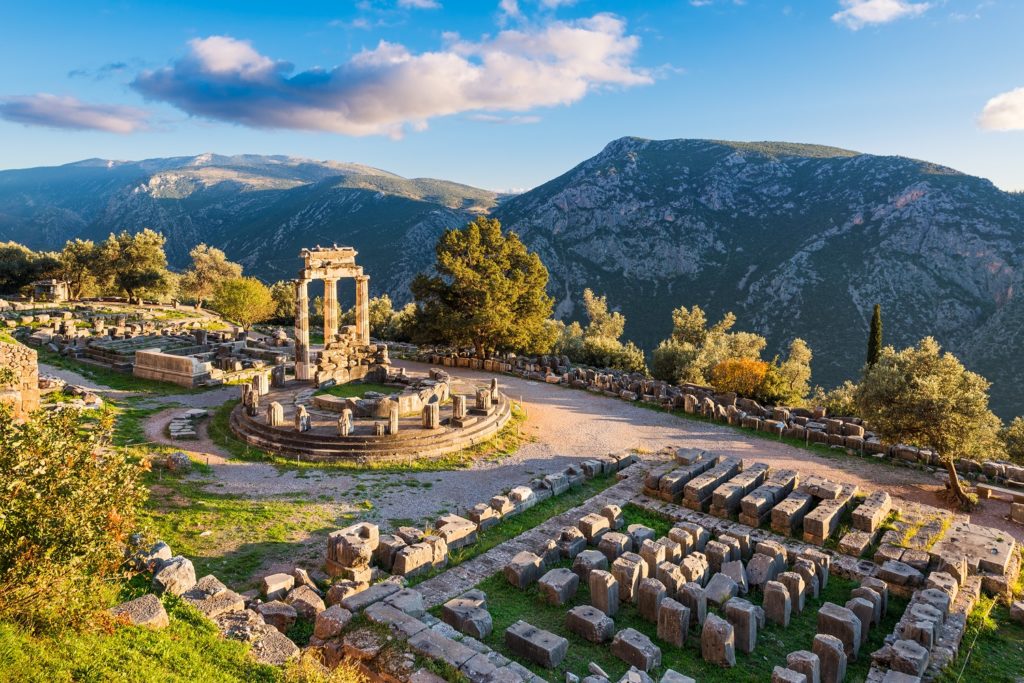 Delphi – Legend marks Delphi as the sacred home of the mystical oracle, Pythia, and the place people came to worship Apollo. This UNESCO World Heritage Site has several remains of temples, a theatre, and stadium. The Delphi Archaeological Museum nearby for further exploration.
The ruined city of Akrotiri – Also called "Santorini's Pompeii" because it is the archaeological site of an Ancient Minoan settlement that was destroyed by a volcanic eruption (presumably the Minoan Volcano). Visitors can explore the former city, preserved safely in a building to protect the mud houses from water.
FIND ADVENTURE IN GREECE
The Islands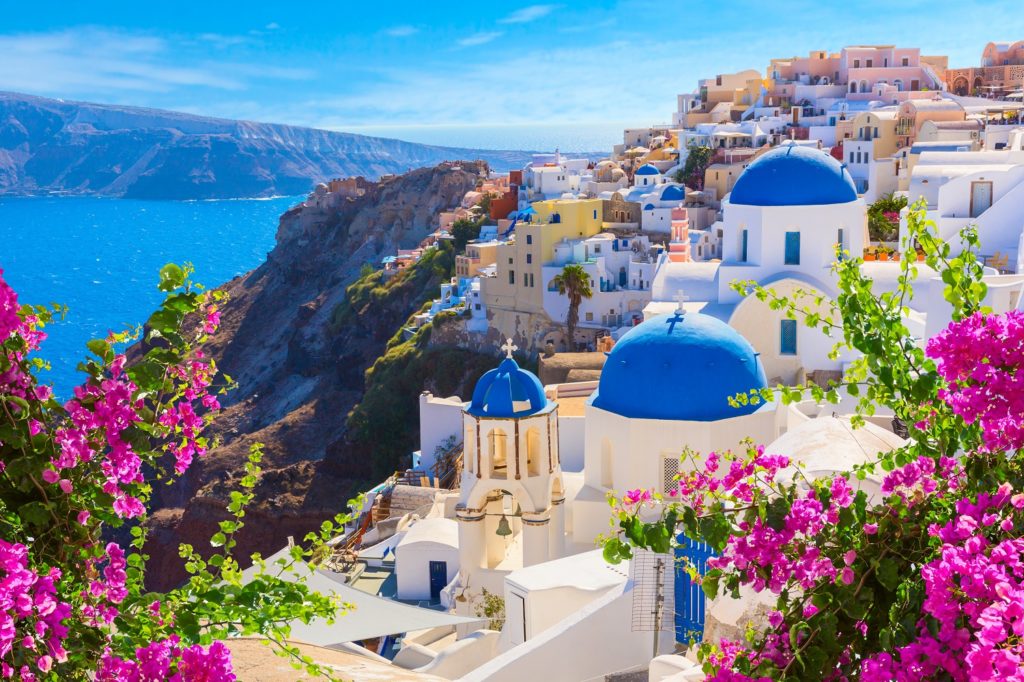 There are some 6,000 Greek islands. Even focusing on the 227 that are inhabited, it is still an overwhelming amount to take in. Any "best Greek island to go to" search is going to yield scads of lists backed by differing preferences.
The good thing is, whichever island you choose to add to your trip, you won't be disappointed. Here are a few to get you started:
Santorini – Favorite spot for honeymoons, romantic getaways, and volcano tours. The Whitewashed village spreads on the slope of a rocky hill overlooking the sea. The churches of Agios Spiridonas and Snasteseos sprout among the enchanting buildings as the familiar Santorini blue domes. The southern tail of the island hosts Red Beach in its curve. The towering bright red cliffs contrasting the blue waters below make for a stunning hike and endless photo opportunities.
Mykonos, Ios, and Zakynthos – These islands are known for excellent beaches and nightlife. Ios is said to host some game-ridden bar crawls. As for sights, the historical Paraportiani Orthodox Church is found on Mykonos and attracts many in admiration. Zakynthos is home to Shipwreck Beach (a.k.a. Navagio Beach), an astonishing cove where the remains of a mysterious ship lie abandon on the coast.
Rhodes Town – Located on the tip of the easternmost island reaching toward Turkey. It is visited for its blend of historic monuments, souvenir shops, and strolling among the quaint cobblestone streets of Old Town.
Corfu Town – A UNESCO World Heritage Site and packed with interesting history (we hear Corfu's Banknote Museum is surprisingly fascinating). Home to picturesque Venetian architecture, neoclassical mansions, and the 15th Century Old Fortress. Souvenir shops and eateries provide pleasant pauses to your exploration.
Hiking

Greece's mountainous terrain presents nearly constant hiking opportunities. The east side of Santorini boasts the historic Mesa Vouno Mountain. Once the location of the Ancient City of Thera, Mesa Vouno is full of easy hiking paths and switchbacks enveloped by stunning ocean views.
Crete's Samaria National Park allows outdoor-lovers to venture onto rugged terrain encased by the awe-inspiring walls of the Samaria Gorge. Located in the White Mountains, the gorge measures 10 miles and ends in the town of Agia Roumeli where trail transforms to shore as it meets the Mediterranean.
Hiking, rock climbing, and even kayaking are popular activities in Kalambaka, a town in central Greece where travelers discover the fantasy-level Meteora Monasteries – towering rock formations that have complexes of Eastern Orthodox Monasteries built into them.
Diving
The Blue Caves in Zàkynthos – Besides hosting the aquatic ruins of Shipwreck Beach, the island has an adventurous hot-spot nestled in its eastern claw. The Blue Caves are a major attraction for explorers, sailors, and scuba divers who want to witness the water/light collaboration that takes place inside. Visiting in the morning or at sunset are the best times to see the light reflecting phenomenon that gives the rocky interior an alien blue hue.
Unique Tours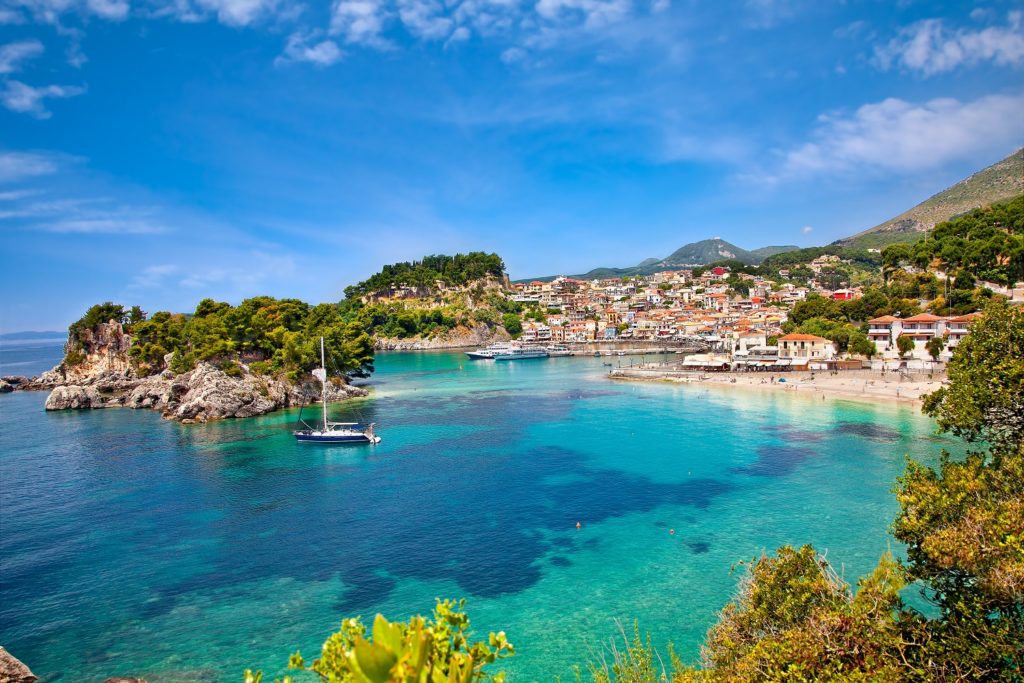 Sailing Trip
As we mentioned, there are so many islands in Greece. Booking a day or multi-day sailing trip is an excellent way for clients to see more than just a couple. Popular routes include Lefkas, Cyclades, Sporades, the Ionian Islands, and the Dodecanese island chain that includes Rhodes, Kos, and Patmos islands. There are several tour companies that offer trips crafted to showcase the best of these places.
Sailing tours are available or private yachts are available to rent. If clients are not traveling with a competent companion that can sail the boat, skippers and captains can be hired through the rental places.
Volcano Tours
The beautiful Satorini Island was once the site of a powerful volcano, whose eruption between 1642 and 1540 B.C. wiped out the Minoan civilization. Nea Kameni is the present area with active craters you can hike around. Because there are no ferries or water taxis to the island, booking a volcano tour is the only way to explore the area.
Some tour packages include a visit to the Palea Kameni hot springs and sailing around the island. Booking tour packages give you the opportunity to enhance your clients' experience and earn more commission. You can explore tours and activities right on your WINGS (LINK) booking platform.
A NIRVANA FOR FOODIES
The meals in Greece are diverse and the portions are massive, so appetites are in good hands regardless of where your clients are at in this country.

Souvlaki is a popular fast food dish. The skewer of meat and veggies accompanied by pita bread or fried potatoes pairs well with a day of exploring. Gyros, of course, are another common go-to and are available everywhere. Any restaurant labeled "Gyradiko" sells them, and even this dish's style varies among Greek cities. Fava, a split pea purée, is a favorite in Santorini and the villages in Crete each have a preferred cheese.
Greece's coastline positioning gives its seafood and vegetables and undeniable quality. Even their Greek salads, topped with giant blocks of fresh feta, are superior to our versions. On the sweeter side, the Amygdalota is a largely popular cookie and best enjoyed with a cup of strong Greek coffee.
Greece does not fall short of options when it comes to deciding to what to do and see. Booking your clients' Greek getaway through our WINGS booking engine lets you plan and secure every detail of the trip, from getting the best airfare to hotel and car rental. Like we mentioned, you can also browse tons of activities and tours available in the region(s) your clients are staying.
Log in or register today to get started!
**Keep yourself in the know on the latest COVID-19 information. Our COVID-19 page is organized so you can easily access the most informative resources in this continuously changing landscape.