If your clients are moved by adventure, point them toward Dubai to experience an adrenaline rush that excites even the strongest emotions. Sky Vacations' customizable Dubai packages offer affordable 5-day vacations to the place they can skydive over the Arabian Gulf and surf its waves in the same day followed by flyboarding. Read on for Dubai's most adventurous activities (and to learn what flyboarding is).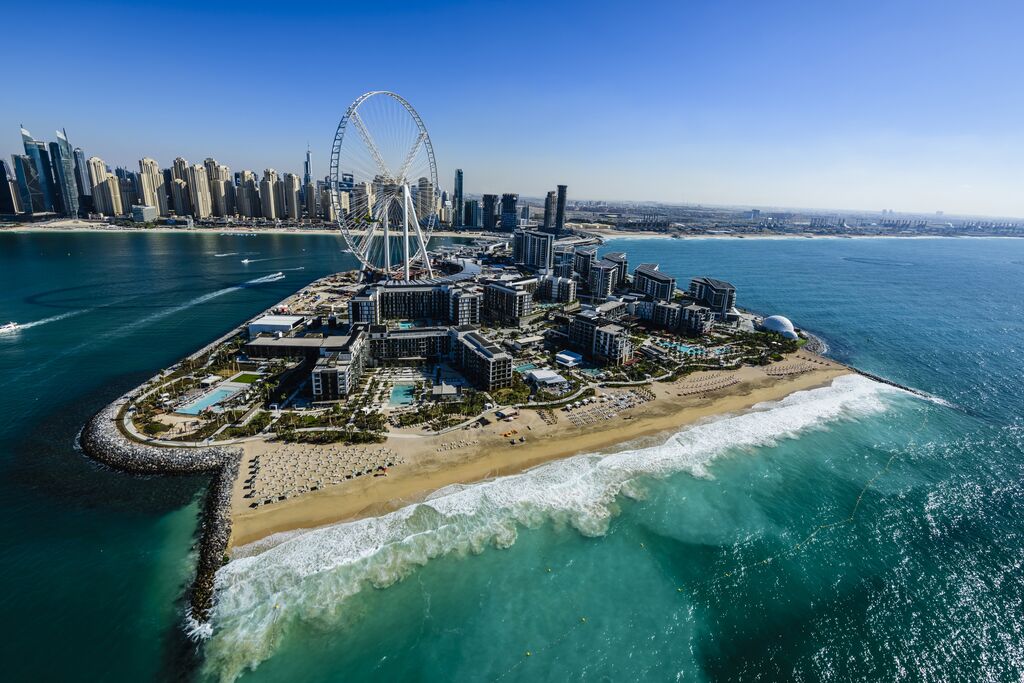 Sky Diving
Skydiving is one of the most common things on anyone's Bucket List. The attraction people have toward taking that plunge is more than just the thrill of scaring themselves; it is them conquering fear, living to the fullest, and getting a rare view of the world below. Dubai's professional skydiving company, Skydive Dubai, gives everyone who wants to include this in their Dubai adventure the opportunity to do it in the safest and most fulfilling way. First-time jumpers take the leap with an experienced instructor in a tandem-style jump, whereas more experienced clients can choose to skydive solo (expect to provide proper documents proving experience).
Jumpers can choose to skydive over the The Palm, a view that does the magnificent city justice and allows a bird's eye appreciation of its unique manmade islands. Clients can also choose to skydive from the Desert dropzone located 35 km (21 miles) outside the city. This option delivers otherwise unobtainable views of Dubai's vast desert, speckled with clumps of tiny towns and lakes.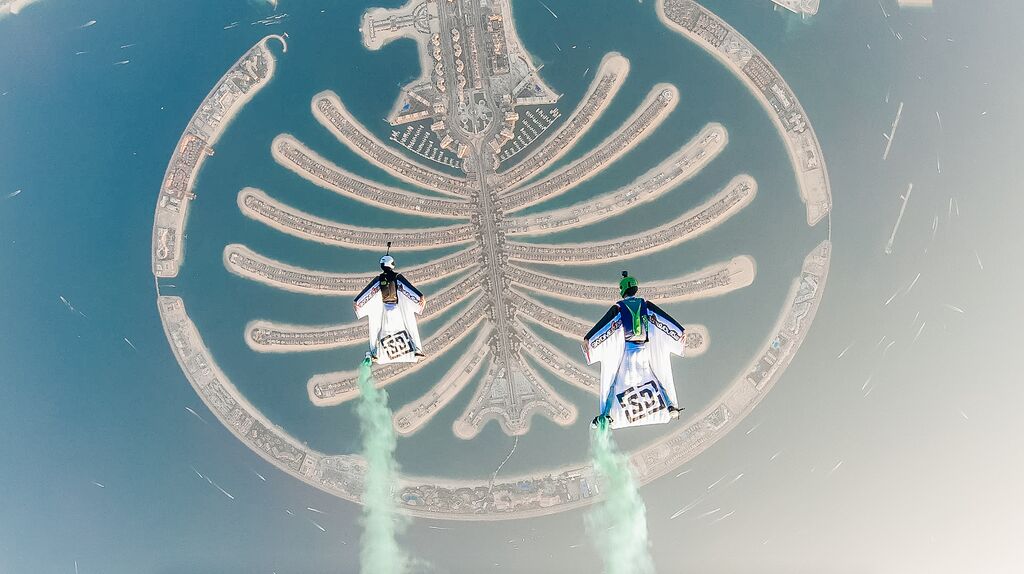 Helicopter Tours
For clients who would rather see Dubai's captivating cityscape without jumping out of the helicopter, look into Dubai's helicopter tours. Even the most crowded itineraries can fit this can't-miss excursion, as tours can be as quick as 12 minutes. Those who have more time to fly the sky can book a longer tour, ranging from 20 minutes to a full hour.
Regardless of what clients have time for, helicopter tours can be formatted to include sights they want to see most. Some of the most popular places to soar are Burj Khalifa, Burj Al Arab, over the Palm Islands and The World (a collection of manmade islands built to resemble Earth's land masses from above). For more information, click here.
Flyboarding
Flyboarding is a unique aquatic activity that truly indicates the future has arrived. Clients strap their feet into a hover board and, after a brief lesson from a certified instructor, are propelled by water pressure into the air. They are in complete control of their adventure as they zoom above the water with nothing but high-powered jets between them and the sea. It is a great way to get their feet wet – pun intended –with the biggest consequence being falling into the water. A 30-minute flyboarding session is perfect for those who are new to adventure travel!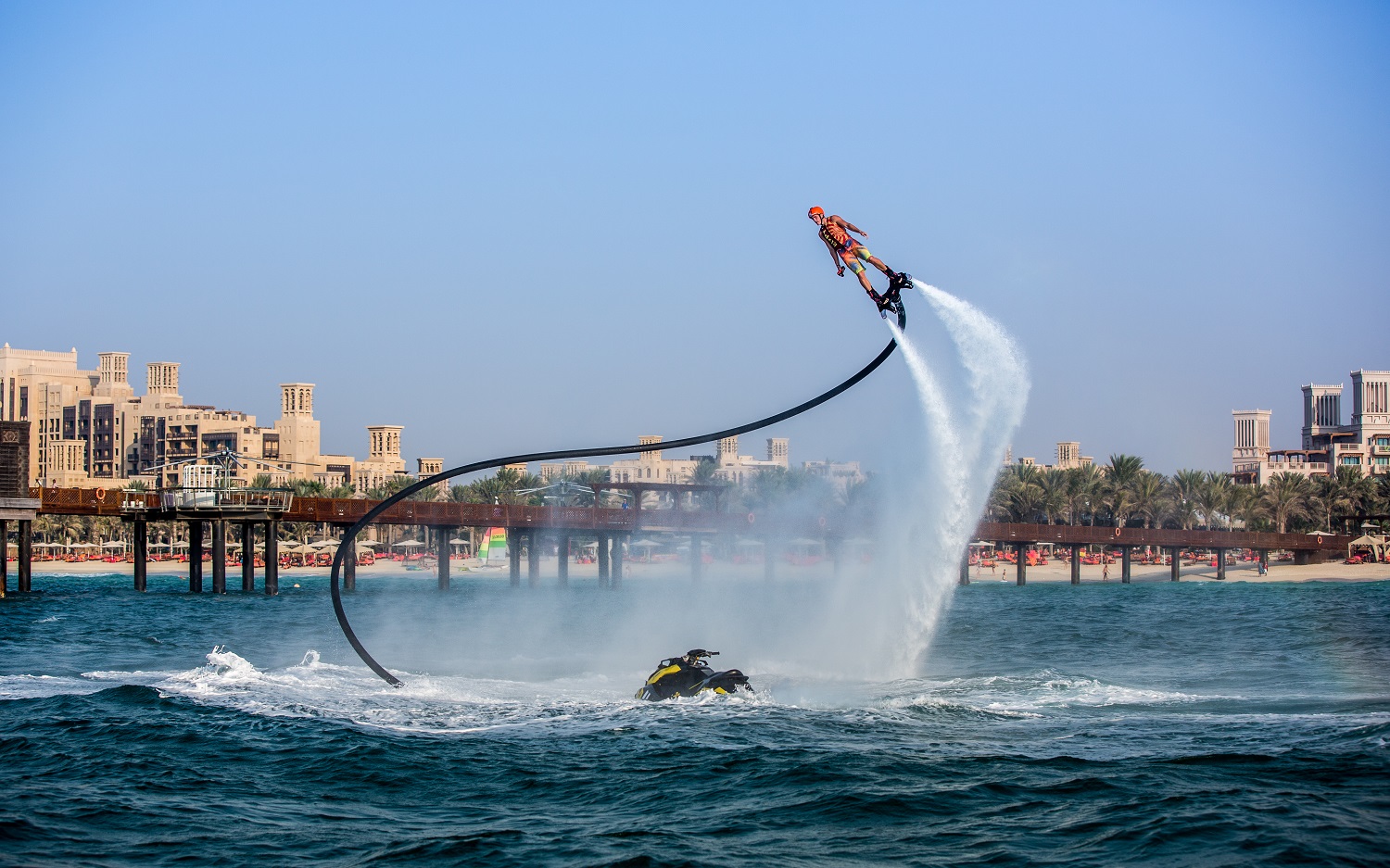 Surfing
Dubai is not often highlighted for its surf, but its beaches make it a top destination to catch perfect waves. Northwest winds blowing over the Arabian Gulf paired with beach breaks scattered in the water create waves that reach over one meter high in the winter months. (Remember: Dubai is a desert, so the winter months are still toasty warm). The most well-known place to surf in Dubai is Sunset Beach. It is optimal for first-time and well-seasoned surfers. Part of the beach is designated for surfers only. This way, clients don't have to worry about colliding with a regular beach-goer while riding the waves. Surf House Dubai is nearby and offers gear and surfing lessons along with vegan bites at the Single Fin Café located inside.
Ski Dubai
Much of Dubai's ground level adventure is detailed in this blog. However, Ski Dubai is full of adventure clients can experience indoors. Wintertime adventure to be exact.
Ski Dubai is the Middle East's first indoor ski resort located in the Mall of the Emirates (also ideal for clients who find thrill in shopping). The snow park is a blissful break from the desert heat. Inside is a towering 85-meter (279-foot) mountain, luge courses, and a colony of Gentoo and King Penguins that are released to roam the park several times during the day.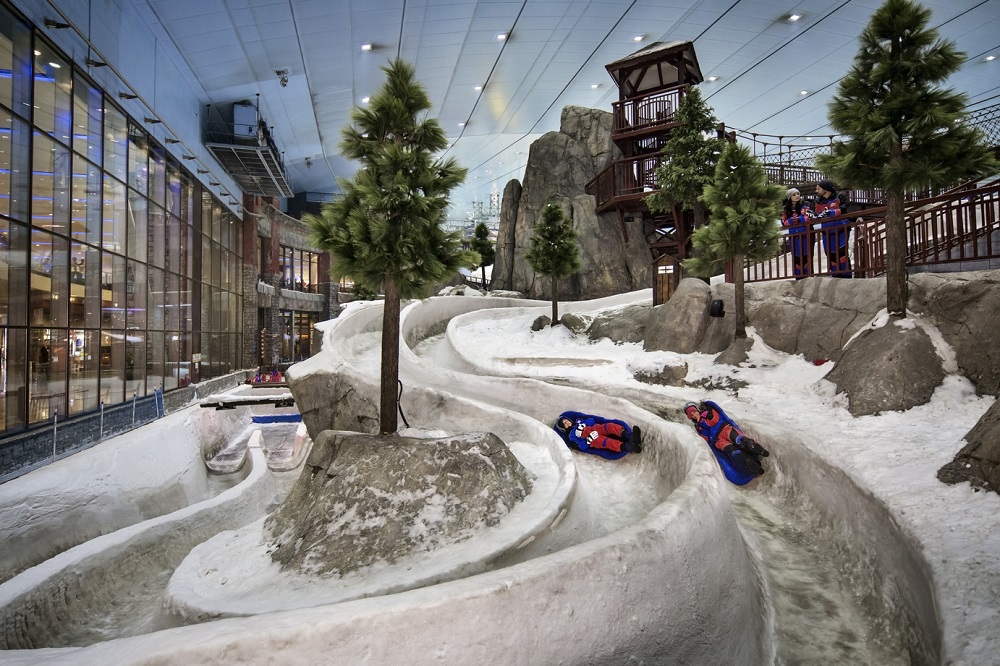 Sky Vacations offers both pre-planned and customizable Dubai tours for every budget. Five-day packages start at just $430 per person. Sky Vacations is happy to modify an existing tour to fit your clients liking, and you can save all around by booking your clients' flights to Dubai on Sky Bird's WINGS booking engine. Call Sky Vacations today and start designing! After all, the surf is best in the winter.